Length: 10 miles one way or 12 mile loop
Elevation Change: 2760' gain
Season: Late spring thru fall
Difficulty: Difficult due to steepness of trail and length of hike
Permit: Not Required
Features: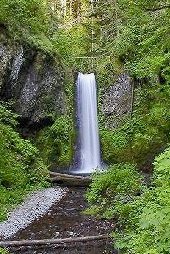 This robust hike takes you past Multnomah Falls and up Multnomah Creek where you are rewarded with many beautiful waterfalls. Turn left at the Franklin Ridge junction and follow the trail through a variety of forest covers and wildflowers in season to the junction to Oneonta Gorge.

By this point you have gained considerable elevation. There are very few viewpoints on this hike, but the forest experience is more than worth it. After descending into Oneonta Gorge, you follow Oneonta Creek past fabulous Triple Falls to the junction where you can either complete the hike one-way by taking the route to Horsetail Falls in which case you will be delighted by Ponytail Falls, or continue on Gorge Trail #400 back to Multnomah Falls.