Length: 12.2 RT
Elevation Change: 4500' gain
Season: Late spring to early fall
Difficulty: Very difficult due to the steepness of trail and length of hike
Permit: NW Forest Pass Required
Features:



Trail follows freeway for about a mile before beginning a grueling 15 switchback climb where the trail kinda levels off for a mile or so. Then things begin to get steep again to about 4000'. Within a mile of the top you have the opportunity to take a loop trail the west of the summit and approach the top from the south side. Return down the north side and meet up with the trail you came up on.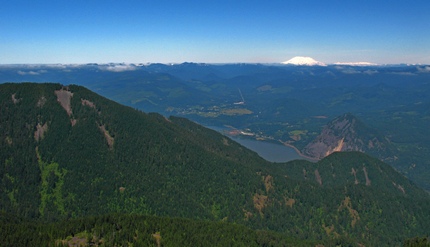 Looking northwest across the Columbia River Gorge
toward Mt St Helens from the Mt Defiance trail