Length: 13.2 Miles round trip
Elevation Change: 3600' Elevation gain / 200' loss
Season: Mid-Summer thru Fall
Difficulty: Difficult
Permit: NW Forest Pass Required
Features:

NEW!
Click for PDF Topo Map of this Hike

This hike begins off Forest Road #4612 and begins climbing immediately to Bluff Lake. The trail is almost entirely in dense forest, and the lake offers a fine rest point as you prepare for the serious climbing ahead.

After leaving the lake, the trail begins a very steep and switch backed climb up Coal Creek Mountain ridge. At this point you get an occasional view of Mt Rainier to the northwest, but for the most part the trail is in dense forest.

At about 3 miles the trail begins to level off a bit. The timber is much larger in this stretch of the trail, but within another mile it finally enters more open areas. Now the vistas become more common and are the reward for the long and tough climb.

As the trail closes in on the peak where Coal Creek Mtn lookout used to stand, you can stray just a bit off the trail to the east and look down on the valley below including a small lake. The summer I took this hike, the area around the peak had been through a forest fire and many of the trees were just blackened objects presenting a rather surreal environment.

At about 6 miles you will reach a junction of the trail to Lost Lake which is several hundred feet in elevation below you. If you bear to the left and continue uphill you will quickly reach the summit and the excellent vistas that make this hike so worth it!

This is a long hike, but the rewards are tremendous. Give it a try.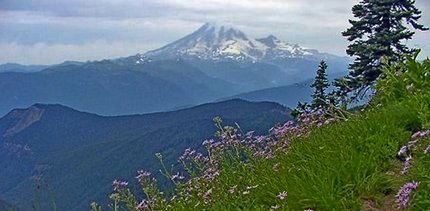 Mt Rainier from the Coal Creek Mountain trail
How to get there:
From I-5 junction with US Hwy 12
Travel east on US Hwy 12 for about 64 miles to Packwood. From Packwood head east on US Hwy 12 for about 4.5 miles. You will come to Forest Road 46 on your right. Turn right and follow FR46 for about 1.6 miles, where you will come to Forest Road 4610. Make a sharp right uphill turn onto FR4610 and follow it for about 1.5 miles where you will come to the junction with Forest Road 4612. Make a sharp left uphill turn onto FR4612 and follow it for about 2.5 miles to the trailhead for this hike.