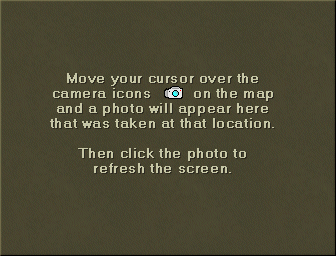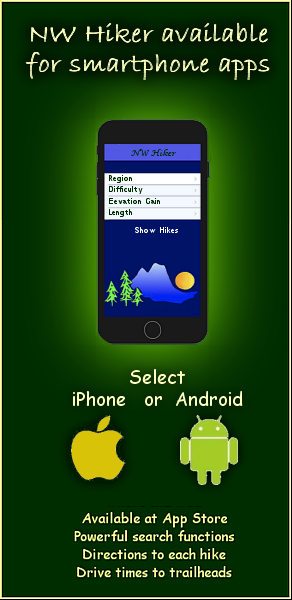 THE FOLLOWING MAP IS NOT TO BE USED FOR NAVIGATIONAL PURPOSES.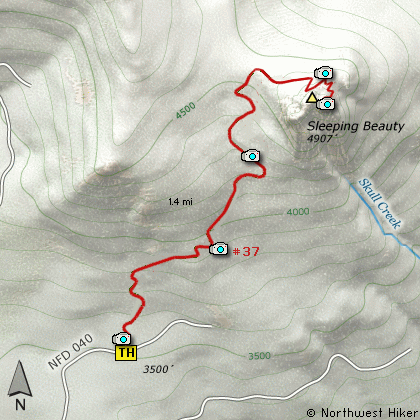 Map of the Sleeping Beauty Mountain Hike

Length: 2.8 Miles round trip
Elevation Change: 1400' Elevation gain
Season: Summer thru Fall
Difficulty: Difficult
Permit: No Pass Requirement
Features:

NEW!
Click for PDF Topo Map of this Hike

Talk about bang for your buck, this little hike is a real gem tucked away in a mostly logged area. The trail begins off Forest Road #040, which is just a short ways off FR #88.

This trail begins climbing very steeply right at the beginning and doesn't actually let up until you reach the ridge line next to the summit. The entire hike is within dense forest, and that shouldn't matter as you will be too busy trying to breathe, so you wont notice the lack of scenery.

At about a mile you will level out on the ridge and after you get your heart rate in control, you can follow the trail up the extremely steep north side of the peak. In places the trail has been carved into the mountain to make it possible to reach the top without technical gear.

Oh, but when you reach the top, what a reward. After you wipe the sweat from your eyes they will drink in more beauty than they can hold. You will be able to see all the local Cascade Volcanos, including Mt Rainier to the north, Mt Adams just a short distance away to the northeast, Mt Hood to the south in Oregon, and of course good ol Mt St Helens to your west.






Mt Adams as seen from Sleeping Beauty
How to get there:
NEW!
Click for PDF Directions Map of this Hike
From Portland, OR
From Portland, travel east on Interstate Hwy 84 to Exit 64 at Hood River. Turn left, and pass under the freeway and cross the toll bridge ($2.00) into Washington state. Turn left onto SR14 and drive approximately 1.5 miles to state road 141 Alt. Turn right onto SR141 Alt. and follow it another 2 miles and merge bearing left onto SR141. Then travel north on SR141 for another 19 miles to Trout Lake and the junction to Mt. Adams Road, which heads north to other hike destinations.

from Trout Lake, WA
Bear left and continue on SR141 for another 1.7 miles where you will come to Trout Creek Road, which is also Forest Road 88 on your right. Turn right onto FR88 and follow it north-northwest for about 3.9 miles and you will come to Forest Road 010, but stay on FR88 for another .7 mile, and turn right onto Forest Road 8810.

Follow FR8810 for a little over a mile and you will come, once again, to Forest Road 010. The reason for taking FR8810 rather than FR010 when you first passed it, is that FR8810 has typically been in better condition. At the junction of FR8810 and FR010, turn left and follow FR10 up a series of steep switchbacks for another 4.9 miles and you will come to Forest Road 040.

Turn right onto FR040 and follow it for about a quarter mile to the trailhead for this hike. The trail begins on the left side of the road, and you'll need to park on the right shoulder.




---
A Virtual Hike in the Gifford Pinchot National Forest