Length: 4 mi loop
Elevation Change: 600' elevation gain
Season: Summer thru Fall
Difficulty: Moderate
Permit: Yakima Nation Pass Required
Features:

NEW!
Click for PDF Topo Map of this Hike

This hike begins at the Bird Lake Campground. The main parking area is on the north side of the lake and at the end of the campground service road. This is a great place to park, as upon completing of the loop, you will come out right where your vehicle is parked.

This hike is a real jewel, and during the summer wildflower months, it is a fantastic floral hike. I will describe the hike as a conterclockwise loop hike, beginning at Bird Lake.

The trail toward Crooked Creek Falls begins rather gently, crossing a couple small run-off streams along the way. In about 3/4 of a mile, the trail crosses Crooked Creek and then the trail begins to climb more seriously. In about another half mile the trail crosses back over Crooked Creek and soon you come to the base of Crooked Creek Falls.

For the next quarter mile or so the trail climbs steeply to reach above the rock wall that creates the opportunity for Crooked Creek Falls. Shortly after that the trail levels out and comes to Trail #9. Bear right on Trail #9 and follow it for another half mile to the junction of Trail #105. Turn right onto Trail #105 and follow it downhill for over a mile and you will come to Bluff Lake.

Take time to explore the cliffs on the east side of Bluff Lake because there are many fantastic views and photo opportunities. Re-find the trail and follow it another half mile downhill to the parking lot where you began your adventure. Enjoy!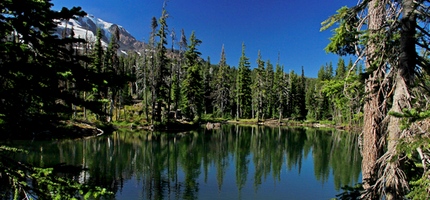 Bluff Lake with Mt. Adams on the left
How to get there:
From Portland, OR
From Portland, travel east on Interstate Hwy 84 to Exit 64 at Hood River. Turn left, and pass under the freeway and cross the toll bridge ($2.00) into Washington state. Turn left onto SR14 and drive approximately 1.5 miles to state road 141 Alt. Turn right onto SR141 Alt. and follow it another 2 miles and merge bearing left onto SR141. Then travel north on SR141 for another 19 miles to Trout Lake and the junction to Mt. Adams Road, which heads north to other hike destinations.

from Trout Lake, WA
Bear right and forward onto Mt. Adams Road for about 1.3 miles and you come to the junction with Forest Road 23. Bear right and continue on Mt. Adams Road, which is also Forest Road 82, for another half mile or so, and when you come to Forest Road 80, bear again to the right and stay on FR82. To reach the Bird Creek Meadows area, just stay on FR82 for another 8.3 miles past FR80. At this point, FR82 turns into the Bureau of Indian Affairs Road 285 as well as FR8290.

Continue on BIA285 for another 4.2 miles and you will come to Mirror Lake and the junction of BIA304 which takes you to Bird Lake. Turn left onto BIA304 and follow it to the far end of the Bird Lake Campground where the parking area is set aside for hikers.