Length: 1.5 mi RT
Elevation Change: 50' gain
Season: Summer thru Fall
Difficulty: Easy
Permit: NW Forest Pass Not Required


Features:

NEW!
Click for PDF Topo Map of this Hike

This is a very short little hike from a campground that bears the same name. The quarter mile walk to the lake edge is through dense young woodlands and the lake itself is surrounded by dense growth. There are very few good accesses to the lake itself, but those that are available make good fishing spots and nice places to just sit and enjoy the beauty.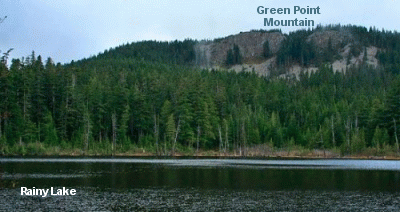 Rainy Lake is a small little lake surrounded by forests and the cliffs of Green Point Ridge. If you follow the trail to the north, it is an easy walk to North Lake from here. It is only about half of a mile to Trail #423 which takes you to the junction of Trail #411. At this junction, bear left and take the short walk to North Lake.

By the way, I read comments on the internet that suggest this is a good lake to fish for brook trout.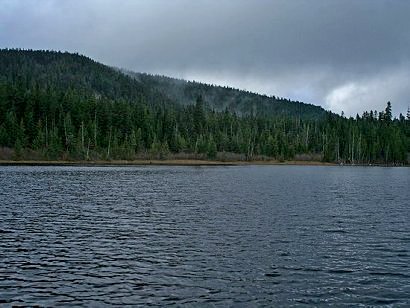 Rainy Lake
How to get there:
NEW!
Click for PDF Directions Map of this Hike
These directions take you from Hood River, Oregon. Whatever direction from which you arrive at Hood River, follow the sign of old US Hwy 30 into town. From the west turn right on 13th Street and follow it up the hill until it merges with 12th. If you are approaching from the east, on US 30, turn left on 9th and follow it up the hill until it merges with 12th. Either way, follow 12th south out of town on what is called Tucker Road or Hwy 281. About 6 miles out of town you will cross the Hood River. Immediately after the bridge, bear right and pass Tucker Park. In about another six miles you need to bear to the right again following signs to Lost Lake. However, as soon as you cross the railroad tracks, bear right again and follow signs to Punchbowl Falls. This road renames itself Dead Point Road, which is also Forest Road 2820. Follow FR2820 about 11 miles up to the base of Mt Defiance. You will see the trailhead to Bear Lake, Mt. Defiance, and North Lake on your right, but continue on FR2820 about a mile and a half to the Rainy Lake Campground. Park here.