Length: 6.4 miles round trip
Elevation Change: 500' climb then 800' drop = 1300' gain
Season: Late Spring thru Late Fall
Difficulty: Moderate
Permit: NW Forest Pass Required


Features:

NEW!
Click for PDF Topo Map of this Hike

This is one of many hikes in the Wahtum Lake area. The trail begins right behind the outhouse at the parking area for Wahtum Lake. You climb a steady moderate climb to the top of a ridge that provides you will excellent views of the surrounding peaks and valleys. You will cross an old unused road that used to service Wahtum Lake and fire lookouts on the nearby hilltops.
At about two miles you will be on the edge of a ridge that runs north to Tom Like Mountain. Here you begin the serious descent into the valley where Mud Lake is located. In about another mile you will see on your right a sign marking the path to Mud Lake. Depending on the season, the lake varies in depth and insect friendliness. Also, depending on the season, you will enjoy a variety of floral displays. Now of course, you get to climb the 800' back out of this valley. But, its worth it!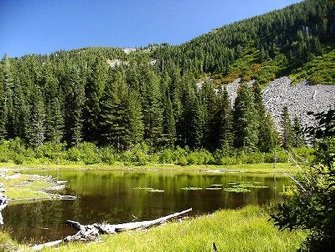 Mud Lake
How to get there:
NEW!
Click for PDF Directions Map of this Hike
These directions take you from Hood River, Oregon. Whatever direction from which you arrive at Hood River, follow the sign of old US Hwy 30 into town. From the west turn right on 13th Street and follow it up the hill until it merges with 12th. If you are approaching from the east, on US 30, turn left on 9th and follow it up the hill until it merges with 12th. Either way, follow 12th south out of town on what is called Tucker Road or Hwy 281. About 6 miles out of town you will cross the Hood River. Immediately after the bridge, bear right and pass Tucker Park. In about another six miles you need to bear to the right again following signs to Lost Lake. This community is referred to as Dee.

As soon as you cross the railroad tracks, bear left and follow the signs to Lost Lake. This paved road becomes Forest Road 18, and you need to follow it about another 5 miles. Then bear right on Forest Road 13 for another 4 miles. Again, bear right on Forest Road 1310. Forest Road 1310 gets a bit narrow in places, especially where it is exposed to the south. Be extremely cautious while driving this section of the road and stay away from the cliff side. Continue on FR1310 for about another 6 miles to the trailhead parking area at Wahtum Lake. This is the trailhead for several hikes.