Length: 2.5 miles round trip from Campground
Elevation Change: 580' gain
Season: Late Spring thru Fall
Difficulty: Moderate
Permit: NW Forest Pass Required


Features:

NEW!
Click for PDF Topo Map of this Hike

This spectacular little hike can begin at the Indian Springs Campground of it can begin at the Wahtum Lake trail head. A primitive road allows the visitor to drive much closer to the mountain, and take several miles off the hike.

There are a couple of choices as to where to begin the hike even if you choose to start at the campground. The Pacific Crest Trail #2000 passes through the very unmaintained camp area and you can find the trail head there. Or you can drive a bit further and park along the road where a barricade blocks you from driving further and hike from there.
The trail follows the old service road used to access the fire lookout that once stood atop Indian Mountain. So, it is very easy to follow even if it is not well maintained. The short hike up this mountain is so worth the excellent views you can enjoy not only at the top but most of the way to the top. Only the last little bit of the trail is in dense forest.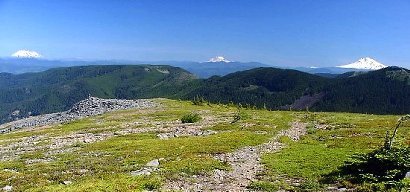 Mt. St. Helens, Mt. Rainier, and Mt. Adams as
seen from the Indian Mountain Trail
How to get there:
NEW!
Click for PDF Directions Map of this Hike
These directions take you from Hood River, Oregon. Whatever direction from which you arrive at Hood River, follow the sign of old US Hwy 30 into town. From the west turn right on 13th Street and follow it up the hill until it merges with 12th. If you are approaching from the east, on US 30, turn left on 9th and follow it up the hill until it merges with 12th. Either way, follow 12th south out of town on what is called Tucker Road or Hwy 281. About 6 miles out of town you will cross the Hood River. Immediately after the bridge, bear right and pass Tucker Park. In about another six miles you need to bear to the right again following signs to Lost Lake. This community is referred to as Dee.

As soon as you cross the railroad tracks, bear left and follow the signs to Lost Lake. This paved road becomes Forest Road 18, and you need to follow it about another 5 miles. Then bear right on Forest Road 13 for another 4 miles. Again, bear right on Forest Road 1310 Forest Road 1310 get a bit narrow in places, especially where it is exposed to the south. Be extremely cautious while driving this section of the road and stay away from the cliff side. Continue on FR1310 for about another 6 miles to the trailhead parking area at Wahtum Lake.

At this point, turn left and follow the graveled FR660 up the hill away from Wahtum Lake. For the next couple miles, always bear right at junctions. You will follow this poorly maintained road down a steep hill and across a saddle then back up to a ridge line. Almost unnoticed, you will see a poorly maintained road drop off to the right and down a steep slope. Do not take this road to the campground.

If however, you choose to not begin your hike on the PCT, don't drop off FR660, but continue on until you come to a split in the road. Bear right and park in front of the barricade, as you will be walking up this abandoned road to Indian Mountain.