Length: 13 mi RT
Elevation Change: 1700' Gain
Season: Summer thru Fall
Difficulty: Difficult
Permit: Park Fee Required


Features:

NEW!
Click for PDF Topo Map of this Hike

This is one of three ways to reach Buck Peak, which by the way is the high point of Multnomah County (4751'). I do not include in this guide the option of starting at Lolo Pass and hiking the PCT to Buck Peak. I do include Hike 09 from Indian Springs Campground near Wahtum Lake as an option, and of course the hike on this page from Lost Lake.

This hike never seems challenging, yet the score indicates that it is. You begin at a parking area near Lost Lake. Be aware that you will pay a fee to enter this recreation area. Follow signs that lead you to the trail around the lake by the south side. Very soon, you will come to the junction with trail #617 labeled Huckleberry Mountain.

It is about a two and a half mile climb to the Pacific Crest Trail from Lost Lake. The trail is in very good condition and only occassionally gets steep. About a half mile into the climb, there is a brief view area where you can see the lake below and Lost Lake Butte to the Northeast. The rest of the entire climb is in a dense forest of mostly fir and hemlock with groups of cedar in wet areas.

When you reach the PCT, bear right, or north, and continue the hike on a much better trail that changes very little in elevation. Shortly, you will come to a spring, where PCT travelers often camp and refresh. In about another mile along the ridge you will come to a rock outcropping, which provides one of your best views of Lost Lake below and within a short distance further a view of Mt Hood rising to the southeast.

Nearly six miles into the hike you will come to the juction of the trail that takes you from the PCT to the summit of Buck Peak. This trail is well marked and only about a half mile long. From the summit of Buck Peak you get your best views of Lost Lake and Mt. Hood. In season there is an abundance of wildflowers for your pleasure as well. This hike is for the mature hiker and is challenging mostly due to the length. Enjoy!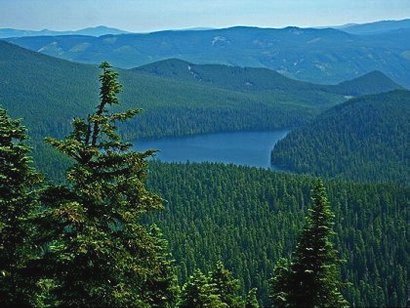 Looking down on Lost Lake from Buck Peak
How to get there:
NEW!
Click for PDF Directions Map of this Hike
These directions take you from Hood River, Oregon. Whatever direction from which you arrive at Hood River, follow the sign of old US Hwy 30 into town. From the west turn right on 13th Street and follow it up the hill until it merges with 12th. If you are approaching from the east, on US 30, turn left on 9th and follow it up the hill until it merges with 12th. Either way, follow 12th south out of town on what is called Tucker Road or Hwy 281. About 6 miles out of town you will cross the Hood River. Immediately after the bridge, bear right and pass Tucker Park. In about another six miles you need to bear to the right again following signs to Lost Lake. This community is referred to as Dee. As soon as you cross the railroad tracks, bear left and follow the signs to Lost Lake. This paved road becomes Forest Road 18, and you need to follow it about another 8.5 miles. Then bear right on Forest Road 13 for another 4.5 miles.