Length: 11.2 mi RT
Elevation Change: 2580' gain
Season: Summer thru Fall
Difficulty: Difficult
Permit: NW Forest Pass Not Required


Features:

NEW!
Click for PDF Topo Map of this Hike

Of the over 105 hikes in the Mt. Hood National Forest, this is perhaps the most genuinely wilderness hike offered. If you are looking for solitude, well this might be just the place.

The dictionary definition of solitude:
(1.) state of being alone, or withdrawn from society
(2.) Remoteness from society; destitution of company; seclusion
(3.) solitary or lonely place; a desert or wilderness.

With this definition in mind, I think this hike embodies those elements. I suspect one reason that this hike has so few visitors is that at the very beginning of the hike, only a matter of a few feet after you get out of your vehicle, the trail begins to drop... and drop very steeply... for about 500 vertical feet. Obviously, the drawback to such a start, is that it is also the finish. Yup, you gotta climb back out of that valley to get to your ride home. And after putting 10 or more miles under your belt, you might be a bit reluctant to attempt such a feat.

However, you hardy hikers out there... go for it! This is the "cat's meow" of wilderness hikes and has all the fun elements required... fallen logs to crawl over, rivers to cross, steep treacherous inclines, and in season the ever present blood sucking vermin known as mosquitos. What more could you ask for?

You want to know how remote this place is? You want to know how few people ever venture forth to hike into this paradise? Well, let me tell you. There are places where there is moss on the trail. YES, on the trail! So, what are you waiting for? If you really want to enjoy the full benefits of this hike, go prepared to stay overnight at Big Slide Lake.

For information about stream crossing, Click Here.

It is a little less than 6 miles from the trailhead to the lake. And each step is an adventure. As you slip and slide your way down the first 500 feet into the abyss known as Dickey Creek Canyon, you will find yourself going back in time. Way back. You will be surrounded by ancient trees and wandering through forests older than the name of the country in which you live. There are ponds to walk past. Lush undergrowth to enjoy. Wildflowers, especially Rhododendrons, line the narrow path. The crossing of Dickey Creek can be a lot of fun, especially if the creek is high from rain and/or snow melt. Then there is the steady gain of elevation as you climb out of the canyon and up toward the headwaters and Big Slide Lake.

About 4.5 miles into this hike you break out into the open, and are surrounded by steep forested walls of verdant green old growth forests. In season the wildflowers are fantastic, but again, you might want to prepare yourself for the onslaught of the mid-summer gnats, flies, and mosquitos. This open area is the result of what gives Big Slide Mountain its name. I suspect the debris filled Dickey Creek Canyon and formed Big Slide Lake, which eventually overflowed the debris and remains in its present state of beauty.

The trail that leads to the lake was not marked when I hiked here, so keep an eye open for an obvious path that leaves this main trail and heads steeply into the valley below. It is only a short steep descent, and again, you must find a way across Dickey Creek. When you reach the other side, a trail will lead you to the shore of Big Slide Lake and several worthy camp areas. This little lake is a real gem, tucked away in the heart of the marvelous wilderness area. Please keep it so, and enjoy!

And, Oh, by the way.... of course now that I've told the universe that this is the place for solitude, don't depend on it. Ugh... sorry about that, but the last folks I talked to who were camped at Big Slide Lake said there was standing room only. Hmmmmmm. Not sure what this means.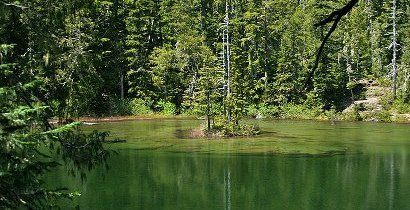 Big Slide Lake