Length: 4.5 mi RT
Elevation Change: 927' gain
Season: Summer thru Fall
Difficulty: Moderate
Permit: NW Forest Pass Not Required


Features:

NEW!
Click for PDF Topo Map of this Hike

Now for a hike in a fairly unknown area of the central Mt. Hood National Forest. This is a short little hike with outstanding rewards, and it is very easy to get to.

This hike begins at Cache Meadow on the southern most end of what is known as the Rhododendron Trail, Rho Trail for short. This trail follows the old original Skyline Trail for a little over 11 miles, and can be accessed at several places along its route.

I hiked this trail in the first part of July on a hot clear day, and found a lot of wildflowers just starting to bloom, due to the extraordinary snow pack still in the forest. The trail begins gently and wanders through an old clear cut area that has now grown sufficiently that it actually offers great vistas and zillions of wildflowers.

Even though you are walking north on this historic trail, the best views are behind you. Just stop and drink in the sights of Olallile Butte, Mt. Jefferson, and the Three Sisters complex further south. Three Fingered Jack and Mt. Washington are sticking up in front of the snowy Sisters.

Within a mile, the trail enters a dense old growth forest. In season there is plenty of water, but I'm sure as the summer rolls on and the snow melts away, the streams will also dry up and water could be scarce. So, always take plenty of water just to be safe.

Within two miles you will come to a small beautiful meadow just off the trail to the left. In season this will be a floral paradise. In season this will be the home to no less than 100 quadrillion mosquitos. And most of them will want you to donate. So, come prepared to give.

Just past this meadow, you will come to the junction of the spur trail that will take you to the summit of Hawk Mountain. Bear right and begin to climb. The trail never gets really steep, but does offer a couple of switchbacks that make the ascent more gentle. At one or two such switchbacks, you will notice that there is a distinct clearing to your left, or north. By all means, walk off trail for the few feet necessary in order to catch great views to the north.

Mt. Hood with Mt. Adams to its left are clearly visible on clear days and offer an opportunity to rest for a moment and drink in the views before continuing on to the top. It is only a short distance from these switchback viewpoint to the summit, and as you come up over the ridge line, you will see an old fire lookout cabin right in front of you. This cabin is well kept, and is open for the public to use and enjoy. Always be a perfect guest, and leave it as good or better than you find it.

The top of Hawk Mountain offers some extraordinary views to the south of all the mountains mentioned earlier. If you came prepared, this would be a great place to stay overnight. If the weather turns poorly, you can stay in the cabin.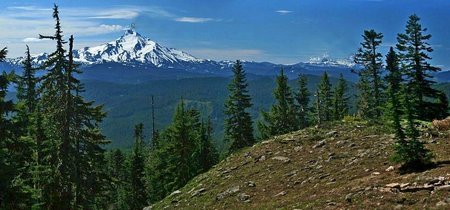 Looking toward Mt. Jefferson from
the summit of Hawk Mountain
How to get there:
NEW!
Click for PDF Directions Map of this Hike
This is one of the easier trailheads to get to. Just head south out of Estacada on Hwy 224, to the Ripplebrook Ranger Station. Continue south from there on Forest Road 46 for about another 27 miles, and keep an eye open for Forest Road 6350 on your right (west). Turn onto FR 6350 and stay on this road for about 4.7 miles until you come to FR 6355. Bear left (west) onto FR 6355 for just about a quarter mile and you will come to the junction of FR 150. The trailhead sign for Rho Trail #564 is on your right. Park anywhere out of the way and off the roads.