Length: 1.5 mi RT
Elevation Change: 100' gain
Season: Summer thru Fall
Difficulty: Easy
Permit: NW Forest Pass Not Required


Features:

NEW!
Click for PDF Topo Map of this Hike

Round Lake and its associated camp facilities are extremely run down. However, it appears that various volunteer groups are doing their best to breathe new life into this special get away.

The road was in very good condition, so getting here should not be an issue. The hike is extremely short, and thus reaching the campground, which is actually a walk-in campground along the lake, is also very easy. It is about a half mile walk, and uphill at first, to get to the lake's north shore. The north shore is the most developed and offers the best camp sites. However, even though the trail does go completely around the lake, well, it is in very poor repair.... especially the bridge across the outlet stream.

I really liked this lake, and appreciated all the hard work volunteers have done to make this a worthwhile destination. Every time I looked at the lake, I saw trout jumping. There is a two fish per day limit, and I am sure you will have no problem reaching this limit with the whole family.

When I hiked to the lake in mid-July the Rhododendrons were in full bloom, and oh, what a treat. No wonder they call the ridge above the lake Rhododendron Ridge. This kind of environment does come with a price.... mosquitos. Yup, cazillions of them. So, simply come prepared during the hatch, or come later in the summer and have less hassle. But, whatever you do... come and enjoy this little gem tucked away in the back country of the Mt. Hood National Forest.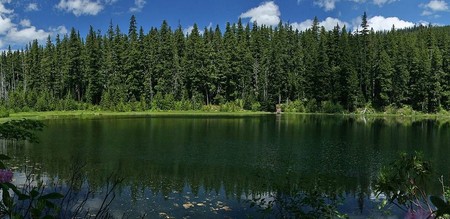 Round Lake
How to get there:
NEW!
Click for PDF Directions Map of this Hike
This is one of the easier trailheads to get to. Just head south out of Estacada on Hwy 224, to the Ripplebrook Ranger Station. Continue south from there on Forest Road 46 for about another 27 miles, and keep an eye open for Forest Road 6350 on your right (west). Turn onto FR 6350 and stay on this road for about 4.7 miles until you come to FR 6355. Bear left (west) onto FR 6355 for about a quarter mile and you will come to the junction of FR 150.

Turn left onto FR 150 and follow it downhill to FR 220, then continue downhill to FR 6370. FR 6370 is a major road that used to take travelers from the Detroit Lake area to the Collawash River, but not now. The day I hiked to Round Lake, I drove as far as one could drive on FR 6370, hoping that just maybe the road had been repaired, even though the signs said it was closed 5 miles ahead. It was closed alright. It had the appearance of having been removed.... ugh. So, don't try to go home this way. Pay attention to the signs, and if you have any questions as to whether this road or that road is open or closed, call the Forest Service in Estacada: 503-630-8787.