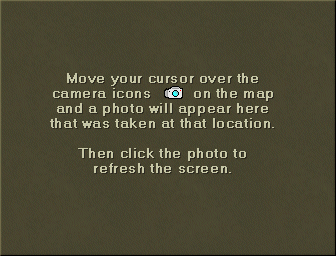 THE FOLLOWING MAP IS NOT TO BE USED FOR NAVIGATIONAL PURPOSES.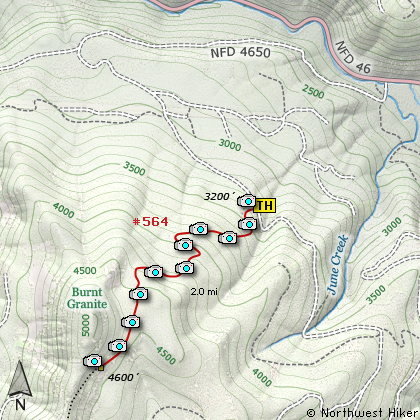 Map of the Burnt Granite Viewpoint Hike

Length: 4 mi RT
Elevation Change: 1405' gain
Season: Summer thru Fall
Difficulty: Challenging
Permit: NW Forest Pass Not Required

Features: This is another hike on the old historic Skyline Trail #564. Remember, the Skyline Trail was the first trail to extend the entire length of Oregon, north-south, but was mostly abandoned when the Pacific Crest Trail was built and became so popular.

Much of the original Skyline Trail has been reclaimed by natural forces, but there are several portions still available for our hiking pleasure. Thanks mostly to a volunteer group of dedicated individuals, who ferret out these old trails and make them hikeable. These wonderful folks have a website dedicated to this goal, and you can click this link to view the great work they are doing, and you can become a part of this movement if you so desire.

This trail to the Burnt Granite viewpoint is actually the beginning of the Skyline Trail that takes hikers along what is known as Rhododendron Ridge. There are two other hikes on this CD that feature this same trail a bit further south: Mount Lowe and Hawk Mountain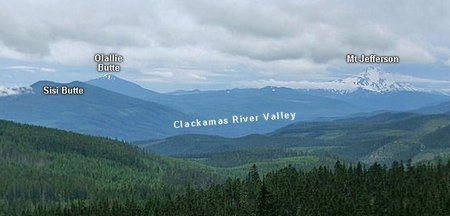 View from Burnt Granite overlook
How to get there:

To reach the trailhead for this hike, drive south out of Estacada on Hwy 224 past the Ripplebrook Ranger station. The road then becomes Forest Road 46. Continue south until you have gone almost exactly 36 miles from Estacada at which point you should come to Forest Road 4650 on your right. Turn onto FR 4650 and cross over the Clackamas River on a significant concrete bridge.

From this bridge follow FR 4650 uphill, under power lines, and to the 4.0 mile mark. The trailhead is only an old cat road with hopefully a pink ribbon on a tree to the right.
---
A Virtual Hike of the Mount Hood National Forest