Length: 11.5 mile loop trip
Elevation Change: 2270' gain
Season: Late Spring thru Fall
Difficulty: Challenging
Permit: NW Forest Pass Required


Features:

NEW!
Click for PDF Topo Map of this Hike

This hike begins by first hiking to Burnt Lake which is an extremely popular hike. The hike begins as a gentle walk through a dense rain-forest type environment. Then at two miles the trail makes its only major switchback and becomes much steeper. The trail climbs this last mile out of the dense forest and into a more open area with occasional views of the surrounding hills and Mt Hood.

The trail travels around Burnt Lake however to reach East Zig Zag Peak you need to take the trail to the right about a quarter mile around the west side of the lake. Follow this well maintained trail through a swampy are before beginning a moderate climb up the face of Zig Zag Mountain.

At the top of the ridge you will intersect Trail #775 which to the left goes to Mt Hood. Continue straight ahead following Trails #772 and #775 up a very steep but short climb to the open area of the ridge. From this point on the views are incredible.

As you continue westward along this ridge Trail #772 will make a left turn off the ridge. You continue straight ahead on Trail #775 to the summit. From this vantage point you will have unobstructed 360 degree views. You can look down on Burnt Lake; east to Mt Hood; southeast to Mt Jefferson; northwest to Mt St Helens; north to Mt Rainier; and northeast to Mt Adams.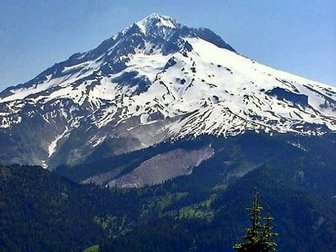 Mt. Hood as seen from the Zig Zag Mountain trail