Length: 13 miles round trip
Elevation Change: 3700' gain
Season: Early Spring thru Late Fall
Difficulty: Difficult
Permit: NW Forest Pass Required


Features:

NEW!
Click for PDF Topo Map of this Hike

There are several trails that lead to Paradise Park on the western slope of Mt Hood. This particular hike travels what is known as the Paradise Park Trail. This is a long and steep hike. The hike is rather level for the first half mile before you begin to ascend climb along the side of a steep hillside within a dense forest.

In the first five (5) miles there are only a couple places where you have a view of the surrounding hills and valleys. At 4.5 miles you intersect Trail #775 to Burnt Lake. Then about a half mile later you intersect the Pacific Crest Trail #2000 and Timberline Trail #600. Cross this trail and continue uphill for another half mile and you will come to Trail #757 which is a loop trail for Paradise Park.

Cross this trail also and continue uphill toward Mt Hood. By now you are hiking in open meadows which in season are full of wildflowers. The trail gets very steep now and become difficult to follow as you reach a viewpoint at about 6600' in elevation. You are standing in front of Mississippi Head with Mt Hood looming behind. Below you are panoramic views reaching from Mt Jefferson to the south and Mt St Helens to the northwest.

One advantage to reaching Paradise Park via this route is if you choose to hike early in the summer you will be less exposed to left-over winter snows. Starting at 2900', you don't usually find snow until the 5000' level and just a short walk to Paradise Park. However, if you begin at Timberline Lodge, you are already at 6000' and will walk on snow almost the entire distance.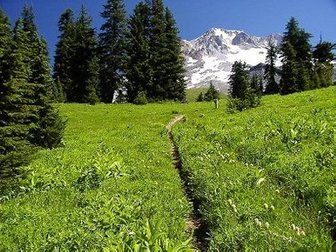 The trail up Zig Zag Canyon Ridge to Paradise Park