Length: 6.4 miles round trip
Elevation Change: 2000' gain
Season: Late Spring thru late Fall
Difficulty: Challenging
Permit: NW Forest Pass Required


Features:

NEW!
Click for PDF Topo Map of this Hike

Be aware that the road to the trailhead as described on this page is no longer passable. It is suggested that you park at the place of closure and walk the road to the trailhead for Horseshoe Ridge

This hike can begin in a number of places. For this narrative I begin the hike on Forest Road 382 a couple miles from FR 1825. The trail is a steep climb through mostly dense forest for nearly 3 miles before it reaches Trail #775 on Zig Zag Mountain. This hike reaches the top of Zig Zag Mountain through a large number of switchbacks following Horseshoe Ridge to the top. There are wildflowers in season, but the reward is at the top. Even if you miss the grand display of Beargrass, on a clear day you will be treated to fantastic vistas of Mt Hood, Mt Adams, St Helens, and Jefferson to the south.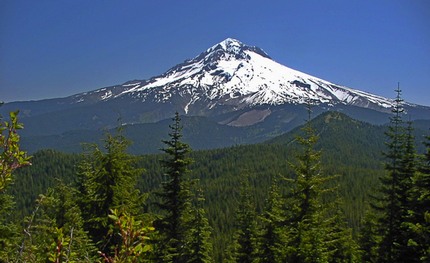 Looking east toward Mt. Hood
from the Horseshoe Ridge trail
How to get there:
NEW!
Click for PDF Directions Map of this Hike
Follow US Highway 26 east out of Sandy until you come to the Lolo Pass Road in Zig Zag. Turn north (left) onto the Lolo Pass Road (road 18) at Zig Zag (across Hwy 26 from Zig Zag Pizza). Follow the road for 4 miles. Turn east (right) onto Road 1825 and continue for .6 miles. Turn right across a new, large bridge over the Sandy River and continue another half mile to the junction to Riley Horse Camp. Bear right, and follow the road a short distance toward the camp, but just before the camp entrance, bear to the left and follow Road 382 (380 on some maps) another quarter mile where you should see the trail head for Cast Lake on your left.

Because the road was washed out in 2010, you will need to park just past the Cast Creek TH, and walk the additional 2 miles to the Horseshoe Ridge trailhead sign on your left.

Please note that at my last check, there were no trailhead signs up. Maybe I was too early, but I don't think so.