Length: 8 miles round trip
Elevation Change: 2270' gain
Season: Late Spring thru late Fall
Difficulty: Challenging
Permit: NW Forest Pass Required


Features:

NEW!
Click for PDF Topo Map of this Hike

This rewarding hike can begin either at the north Burnt Lake Trail head or the south Zig Zag Mountain Trail head. I present both options in this website. This Hike #16 begins at the north approach to Burnt Lake. You can also view information on climbing East Zig Zag Mountain from the south approach on "Hike #09.

This hike begins as a gentle walk through a dense rain-forest type environment. Then at two miles the trail makes its only major switchback and becomes much steeper. The trail climbs this last mile out of the dense forest and into a more open area with occasional views of the surrounding hills and Mt Hood.

After reaching Burnt Lake, continue on a bit further and the trail up the mountain leaves Burnt Lake with a right turn up a steep incline. The hike wanders through a bit of a swampy area after crossing a small stream. Then the switchbacks begin and you climb vigorously for about a quarter mile before reaching the ridge line.

Here you intersect the Zig Zag Mountain trail. Follow the trail to your right, or west, and up an extremely steep but short climb to a more open and exposed area with truly outstanding vistas. From here on you will feast on the views even if you are gasping for air as your lungs argue with you about ascending that next slope. From the rocky top of East Zig Zag Mountain you are aptly rewarded for your efforts.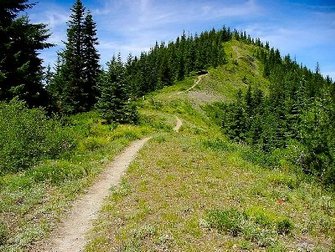 East Zig Zag Mountain Peak
How to get there:
NEW!
Click for PDF Directions Map of this Hike
Follow US Highway 26 through Welches to Zig Zag. Turn north (left) onto the Lolo Pass Road (road 18) at Zig Zag (across Hwy 26 from Zig Zag Pizza). Follow the road for 4 miles. Turn east (right) onto Road 1825 and continue for .6 miles. Turn right across a bridge over the Sandy River and continue another 1.7 miles to the junction to Lost Creek Campground. Bear right, and follow the road another .3 mile toward the campground, but just before the campground, bear to the left and follow Road 1825 another .4 mile where you need to bear right and follow Road 109 up the hill and to the Burnt Lake Trailhead parking area.