Length: 9.8 miles round trip
Elevation Change: 2180' gain
Season: Early Summer thru Late Fall
Difficulty: Challenging
Permit: NW Forest Pass Required


Features:

NEW!
Click for PDF Topo Map of this Hike

This hike begins at the Top Spur cutoff Trail #765. After a half mile climb you intersect the Pacific Crest Trail #2000. Follow this trail for a couple hundred feet to the right where you come to a major intersection of four (4) trail options. Select the trail immediately to your left, Timberline Trail #600. Follow this trail for about another two miles and you will come to a popular viewpoint of the Sandy Glacier on Mt Hood with the Muddy Fork river valley below.

Continue up the ridge to a series of switchbacks that offer you on again off again views of the surrounding hills and valleys. At about three and a half miles you will come to a small basin with a couple of ponds. The upper pond on your left offers the best views of Mt Hood. A short distance past this pond you will come to the intersection of the Mazama Trail. Continue on about a quarter mile and the trail turns sharply to the left crossing a small seasonal creek.

The route to McNeil Point used to continue up this small valley toward Mt Hood, but has recently been closed to for restoration. So, just continue on the trial toward Cairn Basin and in about another half mile you will come to the signed junction of the new route to McNeil Point.

Follow this trail which in season is a floral paradise to the old shelter on McNeil Ridge. An additional challenge awaits those who would like to climb up the very steep slope to McNeil Point another 800+ feet above the shelter. Regardless, you will have already hiked through some of the most beautiful natural surrounds that the Mt Hood area has to offer.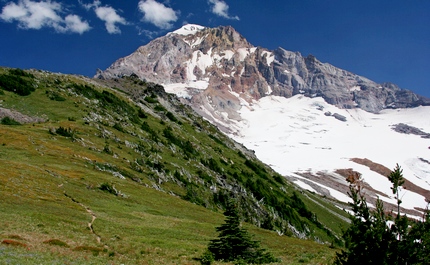 Mt. Hood rises above McNeil Point
How to get there:
NEW!
Click for PDF Directions Map of this Hike
Take the Lolo Pass Road (Road 18) out of Zig Zag for about 4 miles. Bear right on Road 1825. In about another mile, bear to the left and do NOT cross the bridge over the Sandy River. Follow Road 1828 about 6.5 miles to the junction with Road 118. Bear right on Road 118 and follow it another couple miles to the trailhead. Park head-in on the opposite side of the road from the trail. Vandalism is a problem here... so be aware.

Note: This is the same trailhead for McNeil Point, and the Bald Mtn. Overlook hikes. You can also hike to Cairn Basin from here.