Length: 7.6 mile with loop
Elevation Change: 1600 gain
Season: Late Spring thru late summer
Difficulty: Challenging
Permit: Northwest Forest Pass Required May 15 - Oct 1
GPS: N45 18.157, W121 46.644
Latitude: 45.302617
Longitude: -121.7774


Features:

NEW!
Click for PDF Topo Map of this Hike

This hike begins at the highway 26 Mirror Lake trail head. Most of the hike before reaching the lake itself wanders through dense forest, although there are a couple areas where you can view the surrounding mountains and valleys.

Just before reaching Mirror Lake you intersect the loop trail that goes around the lake. Keep to the right to avoid following the lake loop trail, and you will pass by the north side of the lake. If you are looking to take the reflective photo of Mount Hood in Mirror Lake, you will need to travel around the lake. After Mirror Lake, the trail to the top of Tom Dick and Harry Mountain climbs gently over the next mile.

When you reach the ridge spine very near the top, a large pile of rocks will greet you. The trail turns sharply to the left and wanders through a scrub forest. About a third of a mile before the summit, the trail begins to climb steeply over rocky terrain. Upon reaching the top, you are treated to one of the best vistas in the entire Mt Hood National Forest. During growning season the flowers are abundant. This hike is one of the very best view hikes and of course quite popular.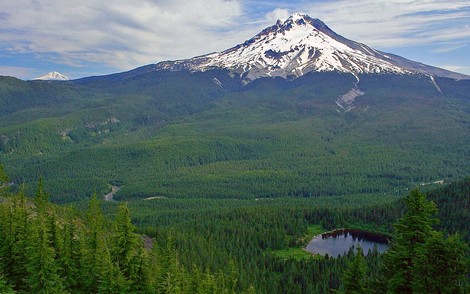 Mt. Hood and Mirror Lake as seen
from Tom Dick and Harry Mountain