Length: 11.8 miles round trip
Elevation Change: 2200' gain
Season: Early Summer thru Late Fall
Difficulty: Difficult
Permit: Snow Park Pass Required in Winter


Features:

NEW!
Click for PDF Topo Map of this Hike

There are several trails that lead to Paradise Park on the western slope of Mt Hood. This particular hike travels what is known both as the Timberline Trail and the Pacific Crest Trail. This is a long hike with considerable elevation loss and gain. You drop and climb both getting to Paradise Park and returning.

This hike begins beside the parking lot of the Timberline Lodge ski area. You will walk up a paved road behind the lodge for a short distance before coming to the actual trail. Follow the trail to your left (west) and soon you will be on a natural surface and beginning you first elevation loss. There are outstanding vistas at this point of the hike, but you will soon descend into more heavily timbered areas with occasional views. After descending into and climbing out of the Little Zig Zag Canyon, you will enter the Wilderness Area. A short distance later you will come to the intersection of Trail #779 to Hidden Lake. In about 3/4 miles you will come to an awesome overlook of the impressive Zig Zag Canyon. If you look carefully, you will be able to see alternate Trail #757 across the canyon from you.

Now you must descend into the canyon below you. You will drop nearly 700' before reaching the river below. Crossing the Zig Zag River can be a real challenge, so be very careful. After crossing the river you begin to regain all that elevation. You will come to the intersection of Trail #757 before reaching the top of the ridge. You can take this route as it leads you to the same place as the mapped route takes you. If you continue straight ahead you will then come to the intersection of Trail #778. At this point, turn right on this trail and follow it uphill to the place where it intersects Trail #757, the trail you crossed earlier while climbing out of Zig Zag Canyon.

At this intersection, turn left and follow Trail #757. In a short distance you will cross a small creek and to your left will be located one of the many stone shelters that have been constructed around Mt Hood. This shelter was destroyed by a falling tree a number of years ago. As you continue on your way around this loop trail, you will now climb through some of the prettiest floral displays available on Mt Hood. Of course this depends on the season of your hike, but generally the last of July thru the first of September is outstanding. Eventually this trail meets up with the Timberline Trail #600 (also know as the Pacific Crest Trail #2000).

Turn left onto this trail and follow it back to Timberline Lodge, you point of origin. This hike is one of the most outstanding hikes available on Mt Hood due to the beautiful floral displays and incredible views of Mt Hood and the surrounding landscapes.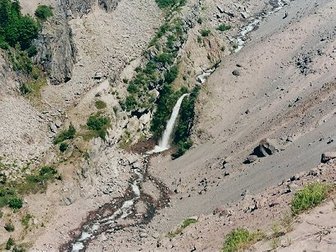 One of many waterfalls seen from the Paradise Park trail
How to get there:
NEW!
Click for PDF Directions Map of this Hike
Follow US 26 to Government Camp. Turn north on Road 50 to Timberline Lodge. Park in the designated parking area when you arrive. The trails are located behind the lodge and up a paved service road about a couple hundred yards.

Note: This is the same trailhead for the Timberline Trail, the Paradise Park Loop hike, and the East Zig Zag Overlook Hike.