Length: 8 miles round trip
Elevation Change: 2033' gain
Season: Early Summer thru Fall
Difficulty: Challenging
Permit: NW Forest Pass Required
GPS: N45 19.554 W121 38.088
Latitude: 45.3259
Longitude: -121.6348


Features:

NEW!
Click for PDF Topo Map of this Hike

The hike up Gnarl Ridge to Lamberson Butte is a real gem. The hike begins near the Mt Hood Meadows Sno Park area and travels level for nearly the first mile. The most difficult part of the hike is crossing Newton Creek. The water is fast and depending on the time of year or current weather conditions, the water can vary greatly in depth. Use caution crossing. After reaching the north side of the creek, the trail climbs vigorously for about a half mile through a series of 9 switchbacks. At the top of the ridge, the trail intersects the trail to Bluegrass Ridge and Gnarl Ridge. If you continue straight ahead, you will come to Elk Meadows. However, follow Trail #646 on your left up Gnarl Ridge toward Mt Hood.
In a little over a half mile you will pass the intersection of Trail #652A which also leads to Elk Meadows. Continuing on you will come to the Timberline Trail #600 which will lead to Lamberson Butte. In about a mile and a half the trail opens up on a ridge at the base of Lamberson Butte. At that point, one must scramble up the northwest side of the butte to reach the top. The view is as good as it gets and the cliff off Lamberson Butte down to Newton Creek is very impressive. Use Caution.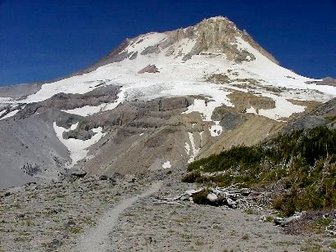 Mt. Hood from the base of Lamberson Butte
How to get there:
NEW!
Click for PDF Directions Map of this Hike
Follow Oregon Hwy 35 south of Hood River or north from Hwy 26 near Government Camp until you come to Road 3545 just a mile or so north of the turnoff to the Mt Hood Meadows Ski Resort. Turn on this short access road for about a half mile and the trailhead is on the north side along with the parking space.

Note: This is the same trailhead for the Mt. Hood Meadows Loop hike, the Elk Meadows hike, the Newton Creek Loop hike and the Lamberson Butte/Gnarl Ridge hike.