Length: 10 miles round trip
Elevation Change: 3025' gain
Season: Early Spring thru Late Fall
Difficulty: Difficult
Permit: NW Forest Pass Required
GPS: N45 20.382, W121 34.212
Latitude: 45.3397
Longitude: -121.5702


Features:

NEW!
Click for PDF Topo Map of this Hike

This is a long and steep hike. The hike begins to ascend almost immediately and climbs along the side of a steep hillside within a dense forest. About half way to the Gumjuwac viewpoint you get your first glimpse of Mt Hood, mostly visible through the trees. Then as you round the corner to the viewpoint itself, you begin to enjoy views of Mt Hood and the valley below are outstanding. The trail then enters the dense forest again and remains forested until you break out at Gumjuwac Saddle and Forest Road #3550. You cross the road and bear to the left to follow Trail #458 toward Lookout Mountain. At this point you begin to be in more open areas where wildflowers abound. As you switchback you way up Lookout Mountain you get increasingly great views both to the west with Mt Hood and to the south with Mt Jefferson, the Three Sisters, and Badger Lake. Near the ridge top you encounter various other trails that approach Lookout Mtn from differing trail heads. Continue on this divide trail to the summit where there used to be a fire lookout. The panoramic views are truly worth the effort to get here.

Having said that, note that the map shows another approach to Lookout Mtn from the north. This is the High Prairie Trail head and is obviously a much short and less vigorous hike.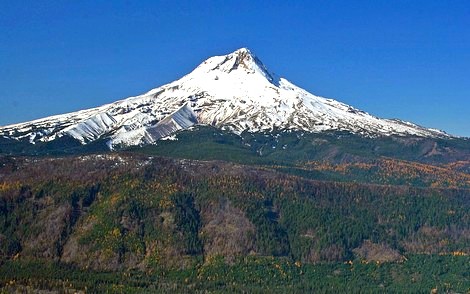 Mt. Hood from the Lookout Mountain Trail
How to get there:
NEW!
Click for PDF Directions Map of this Hike
Whether you approach this from on Hwy 35 going south out of Hood River, or if you are coming north from Hwy 26 near Government Camp, watch for the bridge near what was the Robin Hood Campground.

The trailhead is on the east side of the road and on the north side of the bridge.