Length: 4 miles round trip
Elevation Change: 1100' gain
Season: Summer thru Fall
Difficulty: Moderate
Permit: NW Forest Pass Required


Features:

NEW!
Click for PDF Topo Map of this Hike

This is a fine little hike to a small shallow lake. In season it has a fine display of flowers and mosquitos. In the fall the hike should make just a fine autumn stroll. You begin the hike just around the corner from Fifteen Mile Camp.

The trail starts out quite steeply, but after about a quarter mile, things begin to level out to a normal steady climb. You will hike through dense forest for a while, then as you criss-cross Fret Creek, you begin to have a more swampy environment. The trail has been well maintained with new bridges, but a single winter can change all that. So don't be surprised if you have a lot of lots to crawl over. Keep in mind, the forest here is of an eastern Oregon type, and high altitude, so for the most part the trees are not large.... mostly a mixture of pine and mountain larch.

It is about 2 miles to Oval Lake. The lake is surrounded by forest and is very shallow. You can see rocky crags sticking up behind the trees to the south. The divide trail follows the base of those crags, and is worth the little extra effort if you leave the lake and walk up to the divide trail.

Bear left at the Divide Trail #458 and after a short steep climb you'll enjoy spectacular views both to the south with Mt Jefferson and to the north with Mt Adams and Mt Rainier.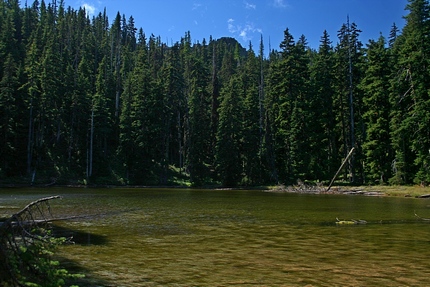 Oval Lake
How to get there:
NEW!
Click for PDF Directions Map of this Hike
Whether you approach this from on Hwy 35 going south out of Hood River, or if you are coming north from Hwy 26 near Government Camp, watch for Road 44 to Dufur and points east.

Turn east on Road 44 and follow it for about 6 miles to Road 4420. Turn right (south) on Road 4420 and follow it for about 2 miles when it forks with Road 2730. Follow 2730 for about 2 miles to Fifteen Mile camp, and then just a couple hundred yards past the camp. Parking is on the north side of the road, but the trail begins on the south side.