Length: 9 miles round trip
Elevation Change: 800' gain
Season: Late Spring thru Fall
Difficulty: Moderate
Permit: NW Forest Pass Required


Features:

NEW!
Click for PDF Topo Map of this Hike

This hike begins at the Frog Lake trail head just off Highway 26. The first mile and a half follow the Pacific Crest Trail #2000. You hike gently uphill and through a variety of forested areas with Rhododendron in season. At approximately 1.5 miles, turn right on Trail #495 and follow the well maintained trail downhill to the first of the Twin Lakes. There are several areas around the lake that make great viewing and picnicking.

One will also note the signs pointing to Frog Lake Butte. This is a vigorous hike, but not really worth the effort, unless you'd like an alternative route back to the Frog Lake Trail head. If you hike to the Frog Lake Butte summit, you will find a newly surfaced road that leads to a newly installed communication tower. You would do best to walk the road back to the trail head as the trail of overgrown and full of windfalls.

Now, on to the second of the Twin Lakes. Make your way back to Trail #495 and follow the trail uphill to the upper Twin Lake. Again, most of the hike is in a forested area. When you reach the upper lake, you should see the top of Mt Hood peaking over the trees at the north end of the lake.

If you would like to explore further, there is a good trail that leads from this upper lake to Palmeteer Point. You will find Trail #482 as your begin to walk around the east side of Upper Twin Lake. Follow this trail for about a half mile and you will notice a viewpoint just a few feet off the trail to the right. Continue along the trail downhill to a small creek you will need to cross. Not far past the creek, is the junction to Palmeteer Point. Bear right and climb steeply for a short distance to the point where you will be rewarded with great views of Mt Hood and the surrounding valleys.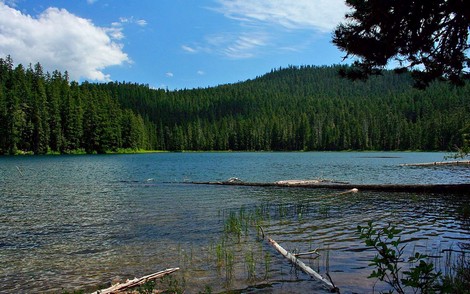 Lower Twin Lake