Length: 7.1 mi Loop
Elevation Change: 1077' gain
Season: Summer thru Fall
Difficulty: Moderate
Permit: NW Forest Pass Required


Features:

NEW!
Click for PDF Topo Map of this Hike

This is a hike that follows a major mountain biking trail. Again, because it is such a trail, the users keep it in excellent condition. Be sure to thank them whenever you have an opportunity. Because of the various accesses to this trail, I am going to present it as a loop hike, beginning and ending at Eightmile Campgrounds.

There is a fine trailhead parking area for this hike near the Eightmile Campgrounds. The trail is extremely well marked and there is a map/sign at the trailhead showing basically what I show you here on this page. The trail begins behind the sign, and heads immediately to Eightmile Creek, which runs along the campgrounds. There is a fine bridge that crosses the creek, and the trail then skirts the campground on the west end, and crosses a couple of access roads in the process.

After you cross a major paved road the hike then begins in earnest as it follows Eightmile Creek. Soon you will come to the junction where you will actually complete the loop part of this hike. For that matter it is at this junction that you could decide to do this hike in the opposite order in which I am presenting it. I choose to continue on straight ahead, following Eightmile Creek. In about a mile, the trail crosses the creek again on a fine bridge and follows a bit higher above the creek as it works it way to the next junction. Along this stretch the trail takes you through areas of severe blow-down, and it makes you grateful to be on a trail. I can't imagine trying to bush-wack through that type of rubble.

In about two miles you will come to another major road, where you will need to walk on the road and cross back over Eightmile Creek to your right. As soon as you cross the creek, you will see another trailhead sign on your left, and the trail which you need to follow to complete this hike. However, you will only walk a short distance, and you will come to another junction. Here you take a sharp right and follow the trail to the northeast as it climbs gently to the ridge line. In about a mile and a half, the trail will cross that road you were on earlier when you crossed over Eightmile Creek. Just follow straight ahead, crossing the road, and heading east toward the fire lookout tower.

It is along this stretch of the trail that you will get your best views of the surrounding hills and valleys. In about a half mile you will come to a junction, which may be unsigned. Take the trail to the left, and it just a few hundred feet you will come to Fivemile Lookout. This fire lookout tower is neat, and feel free to explore it. This tower can be rented, so be respectful if someone is occupying it when you get there. There is a new restroom near the bottom of the tower, and fantastic views of Mt Adams to the north. Also, you will clearly see Mt.Hood to the southwest, and you can see it even better if you climb the tower.

After resting and/or exploring, head back to that junction that brought you to the tower, and bear left (east) and continue on the trail that will descend steeply through a number of switchbacks to that junction you passed earlier. Then, bear to the left again, and follow the trail back to your vehicle.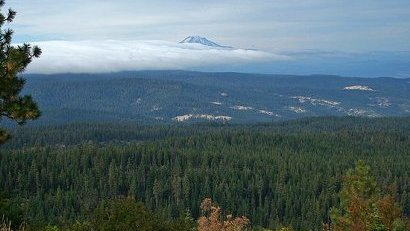 Looking north toward Mt. Adams from Five Mile Butte
How to get there:
NEW!
Click for PDF Directions Map of this Hike
From Portland drive Hwy. 26 east to Jct. Hwy. 35. Take Hwy. 35 approx. 10 miles to Forest Service Road 44. Turn right onto Forest Road 44 to Dufur.

From Hood River follow Hwy 35 south toward Mt. Hood. At approximately 26.5 miles you will come to the junction with Forest Road 44 to Dufur. Turn left onto FR 44 and follow it uphill and over dale for about 10 miles. When you come to Forest Road 4430, turn north and follow the road downhill toward the 8 Mile Campground, and just before you cross 8 Mile Creek, bear right and drive a short distance to the trailhead.