Length: 3 miles round trip
Elevation Change: 300' gain then 500' loss
Season: Late Spring thru Fall
Difficulty: Moderate
Permit: NW Forest Pass Required


Features:

NEW!
Click for PDF Topo Map of this Hike

Veda Lake is an interesting little hike that comes in as Moderate due to the elevation changes going in and climbing out. The name of the lake supposedly comes from the two fellows that found the lake.... Vern and Dave. It is said that they used the first 2 letters of their names to create the lake name.

The parking area at the trail head is quite large considering how difficult it is to get to the parking area. If you drive a Sherman Tank or maybe, say, a Bradley Fighting Vehicle, you might be able to get there with minimal damage to your vehicle.... otherwise, be forewarned.... the road is BAD!

Once you arrive and park your now tried and tested vehicle, cross the minefield, I mean road, and begin the hike. The trail gains elevation for the first third mile or so, then levels off as you cross over the shoulder of Veda Butte. Now the trail descends into the circ where the lake is located. As you descend you will have outstanding views of the surrounding area, especially Mt Hood to the northeast, and of course Veda Lake below you.

The lake is really quite a gem located out here in the middle of nowhere. It is a truly nice hike and very rewarding regardless of the season. The spring with its Rhododendrons, the summer with its lupines, and the fall with the red of the vine maples.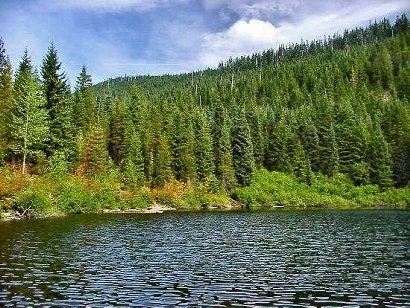 Veda Lake