Length: 12 miles round trip
Elevation Change: 3200' gain
Season: Late Spring thru Fall
Difficulty: Difficult
Permit: NW Forest Pass Required


Features:

NEW!
Click for PDF Topo Map of this Hike

Note: Due to the road wash-out a few years back, the hike is 3 miles longer and gains an additiona 430 feet in elevation.

This is one of those delightful hikes with little popularity. It climbs pretty steeply, so I call it Difficult, but it is a great hike. Located in the heart of the Salmon-Huckleberry Wilderness, Salmon Butte offers outstanding views and lots of spring and summer flowers.

The trail head parking area is a simple little pullout on Forest Road #2618. The trail head is not well marked. You used to drive up a little dirt road to the trail head, but they placed a berm there, so now you park on the forest road and hike in the additional few hundred feet. The locals have not been kind to this area, but don't let that discourage you. This hike is worth it.

Just as you begin the hike, you will come to the forest service sign in booth. Then you're on your way. The trail wanders through an old forest with large cedars and hemlocks. As you climb the trail is often lined with the ever present Rhododendrons. In season they are beautiful and add much to the enjoyment of this hike. From time to time there are breaks in the dense forest and you get opportunities to enjoy the vistas.

The steep climb is broken up by several switchbacks which make the grade tolerable. The greenery that lines that trail makes it look surreal at times. About 3.5 miles into the climb you will change over to the eastern side of the ridge. Here you will be treated to great vistas of not only Mt Hood, but Devil's Peak, and the Salmon River valley below you. At about 4 miles the trail gets fairly steep for just a short distance and you come to the junction of the old service road that approaches from the south. Bear to the right and follow this road, turned trail, around the north side of the butte to the west side where you approach the top.

The reward is here on top. Views abound and the reward is great. Enjoy.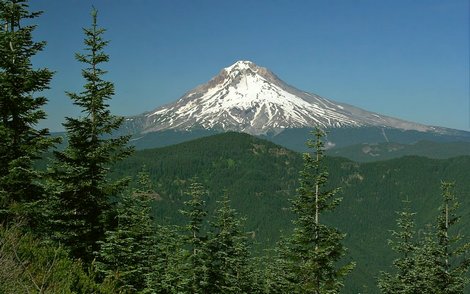 Mt. Hood as seen from the summit of Salmon Butte