Length: 7.6 miles round trip
Elevation Change: 1200' cumulative gain
Season: Spring thru Fall
Difficulty: Moderate
Permit: NO Pass Required


Features:

NEW!
Click for PDF Topo Map of this Hike

This gentle little hike is easy to get to and easy to hike. You begin the hike where Forest Road 4614 makes a sharp bend to the left. You'll see a pull off to the right and you'll notice that the road has a wide should on which to park. The trail head sign is just a few feet off the road and it labels the trail the Old Baldy Trail.

The trail begins a gentle climb immediately. It might be a little dismaying to see the trail paralleling the forest road to the left and below you, but never fear, this will not last. First of all because shortly you will begin a rather steep climb up the west side of Githens Mountain. But before you do, you'll get one chance to look out over the valley below you and up at Githens. Then its climb

Never fear, though, this isn't Devil's Peak. Soon the trail levels off and before you know it you will loose all that precious elevation you just spent so much effort gaining. At about 1 mile and three quarters you'll come to a junction where the old trail continues on to Old Baldy, and a newer trail veers off to the right and takes you on a much better route to great vistas.

You begin to regain that lost elevation.....again. In about a mile, you'll begin to hike along the edge of the drop off to the valley below. However, it won't be for a while before you get to the viewpoint. Just before you get there, you'll notice a campsite on your right. Looks like a great overnight place if you have your own water.

Next you'll see a user path off to your right that takes you to the viewpoint that makes this hike worth the effort. You'll enjoy great vistas of the Eagle Creek valley and of Wildcat Mountain to your north and Mt Hood to your northeast.

If you really want to reach the top of Old Baldy, return to the trail and follow it just over a mile through mostly dense forest to the top of the mountain which is mostly dense forest.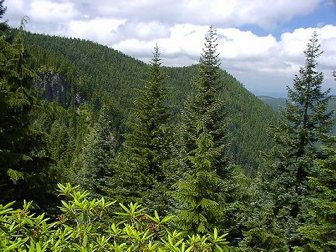 View along the Old Baldy trail