Length: 4 miles round trip
Elevation Change: 1200' gain
Season: Summer thru Fall
Difficulty: Easy
Permit: No Pass Required


Features:

NEW!
Click for PDF Topo Map of this Hike

Squaw Mountain has been renamed Tumala Mountain.

Here is one of the best kept secrets in the Mt. Hood National Forest. This little hike is family friendly, and offers some of the best views of Mt. Hood available for such little effort. Although the trail begins at a very very steep incline, it only remains that way for about a quarter mile, then gradually takes you over a gentle summit and retreats back down a bit before the actual slow climb to the ridgeline known as Tumala Mountain.

This hike begins at the Old Baldy Trail #502 except you head south instead of north. After a quarter mile very steep climb through dense old growth forest, you gentle walk over a low summit then descent to a saddle where an alternate trail to Tumala Mtn intersects this trail.

Continue south on Trail #502 as the trail climbs steeper and steeper as it nears a saddle where Trail #783 from the east intersects. At this point head south along the ridgeline that makes up Tumala Mtn.

You will climb a bit and eventually walk out onto a grave road that used to be the access to the fire lookout on top of Tumala Mtn. Bear left and continue uphill just a bit and you will enter a large parking area. Just look to the left and you will see a couple routes to the actual ridge where you will be greeted (on a clear day) to one of the most profound views of the Cascade Mountains.

Walk back and forth to both ends of this ridgeline and you will see Portland, Oregon off to the northwest, Mt. St. Helens and Mt. Rainier to the north, and Mt. Adams and Mt. Hood to the northeast. Then as you look to the southeast, you will see Mt. Jefferson and on a really clear day you can see Three Fingered Jack, Mt. Washington, and the North Sister.

This easy hike has enormous rewards! Enjoy!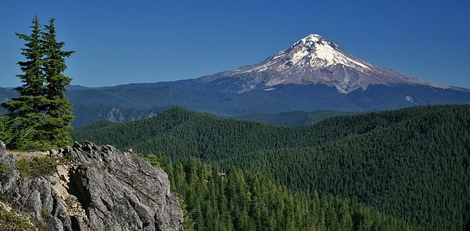 Mt. Hood as seen from the summit of Tumala Mountain