Length: 2.6 miles round trip to Memaloose Lake
Length: 4.6 miles round trip to South Fork Mountain
Elevation Change: 665' gain to the lake
Elevation Change: 1403' gain to the mountain
Season: Spring thru Fall
Difficulty: Moderate
Difficulty: Challenging
Permit: NW Forest Pass Required


Features:

NEW!
Click for PDF Topo Map of this Hike

As the information suggests, this is actually two hikes in one. For this narrative I'll take you to the top of South Fork Mountain via Memaloose Lake. The trail begins on the south side of Forest Road #45. The hike is almost entirely in dense old growth forest. Depending on the season, you might enjoy beautiful summer flowers or colorful fall shades. The trail climbs gently for about three quarters of a mile, then it begins to get steeper.

The last quarter mile before the lake, the trail crosses the stream coming out of the lake and does a couple switchbacks in the process. Upon reaching the lake, you can continue your journey if you would like to climb to the top of South Mountain. Just remember that the trail is not maintained.

Follow the labeled trail to the left side of the lake. The trail climbs through a number of switchbacks until it reaches the ridge. Then the trail follows the ridge to the summit. Don't be discouraged when you get there and someone is parked in their fine SUV enjoying the same view without the sweat. After all, you did want to go hiking and they didn't. You both got what you desired. So, enjoy.

If the weather cooperates, you should have a good view of Mt Jefferson and a great view of Mt Hood. If the weather doesn't cooperate, enjoy the clouds, rain, snow, or whatever.... but most importantly, remember to enjoy.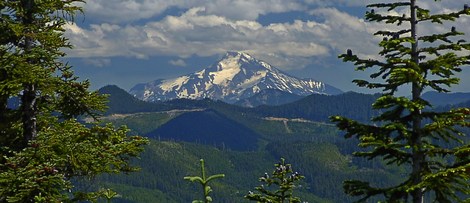 Mt. Jefferson as seen from the
summit of South Fork Mountain