Length: 1 mi RT
Elevation Change: 310' gain
Season: Summer thru Fall
Difficulty: Moderate
Permit: NW Forest Pass Not Required


Features:

NEW!
Click for PDF Topo Map of this Hike

Access to the Buck Lake trailhead is really good. And there is a fairly good parking area at the trailhead. However, the signage has deteriorated with time. Yet, the trail is obvious and it is a short hike to a wonderful lake.

The trail is a bit steep at first, the becomes more gentle as you hike through a young new forest that is growing up in what was a clearcut area. The trees are high enough now that your views are limited to an occasional glimpse of Mt. Hood and some of the surrounding countryside.

The trail leaves the young forest and enters an older forest with what appears to be some old growth timber. It is a short walk through this older forest to the lakes edge. As with most of these small lakes, as you approach the lake you will find a camping area with a fire pit and so forth. The lake is clearly visible at this point so just continue on to find a vantage point that pleases you.

It didn't appear to me that there was a trail completely around the lake. If there was, it was quite obscure. Nevertheless, on the eastern shore it is very rocky and with no trees or brush is excellent access to the lake. This lake looks large and deep enough to be home to fish. Enjoy!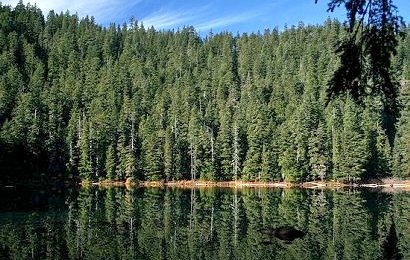 Buck Lake