Length: 2 mi RT
Elevation Change: 200' gain
Season: Summer thru Fall
Difficulty: Easy
Permit: NW Forest Pass Not Required


Features:

NEW!
Click for PDF Topo Map of this Hike

Shellrock Lake is a very popular hike in the summer because of the campground at Hideaway Lake. This is a great little campground with updated facilities, and a great jumping off place to Shellrock Lake. However, I choose to begin the hike at the actual trailhead for the lake, because many of you hikers would not be staying at the Hideaway Lake campground.

I explored and photographed this hike in the fall, so I missed out on all the wildflowers which I am certain grow along the trail. The hike begins kinda out in the open, and takes you uphill into what appears to have been a clear cut area at one time. This openness actually contributes to a greater density and variety of wildflower as well as great views of the surrounding countryside to the east.

This is a short hike and very family friendly. Even though you have to gain some elevation before descending to the lake shore, it is not difficult. Just before the lake, you will enter a stand of old growth timber which marks the boundary of the newly formed Roaring River Wilderness area. As you enter this old forest, the tail begins its descent to the lake shore. If you choose to explore the east side of the lake, you will have to cross the outlet stream from the lake, and this can be a bit of a challenge. So, use caution. The worst that is likely to happen is that you slip off a log that someone has put in place to get across the stream by now wading, but the water is very shallow, so that poses no danger.

This trail along the east side of the lake, actually goes on to the Frazier trailhead to the Rock Basin hikes. As you walk along the east side of the lake, there will be a number of excellent approaches to the lake edge, but never is there actually any beach as such. There are a number of campsites along the eastern shore.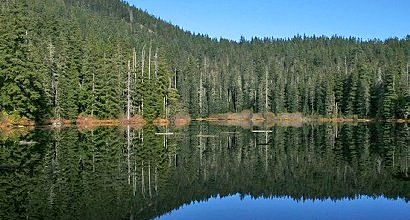 Shellrock Lake