Length: 1.6 mi RT
Elevation Change: 215' loss then re-gain
Season: Summer thru Fall
Difficulty: Easy
Permit: NW Forest Pass Not Required


Features:

NEW!
Click for PDF Topo Map of this Hike

Here is a hike to a very popular destination in the heat of summer. The hike down to Alder Flats takes a winding route through tall old growth timber to the shore of the incredible Clackamas River. Depending on the season, you can encounter a large variety of wildflowers and even wild geese heading north or south on the little ponds along the way.

In the heat of summer, the Clackamas River provides a refreshing relief and natural beauty to boot. There are a number of camp spots along the river at trails end, but however long you plan to stay, this little hike is a rich reward.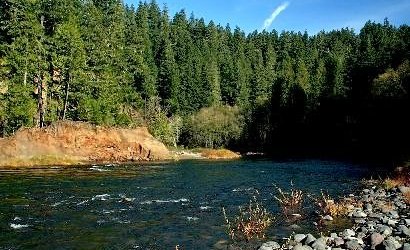 The Clackamas River runs along Alder Flats