Length: 2 mi Loop
Elevation Change: 50' gain
Season: Late Spring thru Fall
Difficulty: Easy
Permit: NW Forest Pass Required


Features:

NEW!
Click for PDF Topo Map of this Hike

There are two ways to hike the perimeter trail of Trillium Lake; either clockwise or counterclockwise. If you are a serious photographer, the direction you choose will be determined by where the sun will be when you arrive at those points you want to photograph.

The trailhead we used was on the eastern corner of the dam. They have created an apron on the lake side of the dam for fishermen and other visitors to just enjoy the lake and the unbelievable image of Mt. Hood rising to the northeast in all its splendor.

Trillium Lake can be accessed year round, however, in the winter you will have to leave your vehicle at the Hwy 26 snow park area. My friend Terry and I snowshoed in last winter and it was a wonderful experience in spite of the distance. We passed folks on snowshoes, cross-country skis and just plain walking in hiking boots.... and they all seemed to be having a wonderful time.

Please note: Trillium Lake is a concession operated Forest Service day use site that charges a $5.00 Fee from May 15 through Oct. 1. Northwest Forest Passes are accepted. Golden Age, Access or other Day-use Passes are not accepted here.

Also, A State of Oregon Sno-Park permit is required November 1 through April 30 at Trillium Lake. There is no formal trail fee, but a $3.00 donation is recommended. Donations pay for the trail to be groomed.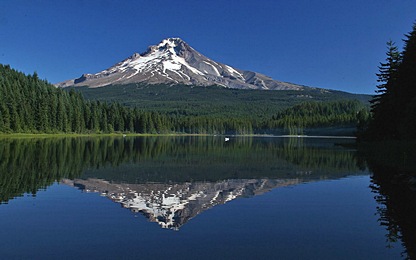 Mt. Hood rises to the north of Trillium Lake