Length: 11.2 miles round trip
Elevation Change: 1600' cumulative gain
Season: Summer thru Fall
Difficulty: Challenging
Permit: NW Forest Pass Required


Features:

NEW!
Click for PDF Topo Map of this Hike

There are several ways to get to Silver King Lake. One is by taking the trail from Bagby Hot springs. Another is my hiking in from Elk Lake. But the one I'm presenting begins at the Whetstone Mountain trail head and follows the ridge between Whetstone Mtn and Silver King Mtn. The trail head access is easy and the hike is spectacular.

The trail descends immediately from the parking area, passing the Check Point Charlie on the way.... poop shovels and all! You loose a bit of altitude here as you cross this little valley and approach the ridge that you will follow almost to the lake.

When you reach the top of the ridge you will intersect Trail #3369 coming in from the west. This trail follows your Trail #546 for nearly a mile before dropping down into the valley below. You will climb and descend several times during this hike, but none of the changes are very great. At about two miles you begin to be more out in the open and the views are just great. This a beautiful wilderness area and this hike provides you so many vistas to enjoy it.

At about four and a half miles you will come to a saddle where the trail down to Silver King Lake branches off to your left. Follow this Trail #544 downhill to the spur trail that takes you back uphill a bit to the lake itself. Silver King is a small but beautiful lake and worth the journey.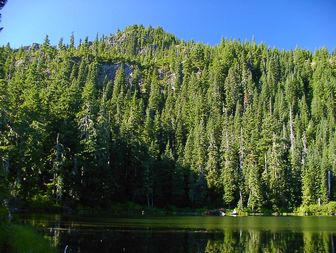 Slver King Lake
How to get there:
NEW!
Click for PDF Directions Map of this Hike
Follow Hwy 224 southeast of Estacada approximately 25 miles until it becomes Forest Road 46 just after the Ripplebrook Ranger Station and the junction with Forest Road 57. Continue south for about another 3.7 miles to the junction with Forest Road 63. Bear right onto FR 63 and cross over the Clackamas River. The road now follows the Collawash River for approximately 3.5 miles until you come to the junction with Forest Road 70.

Turn right onto FR 70, which is the same road that takes you the Bagby Hot Springs area. Continue for approximately 6.5 miles past the Bagby Hot Springs parking area to the junction with Forest Road 7020. Turn left onto FR 7020 which will take you steeply up a rather rough road. At times you might think that you are on the wrong road. Actually, you might wonder if you are on a road... but be assured, it gets better. It is about 5.5 miles to the trailhead. Just before the trailhead you will pass the junction to Forest Road 7030, but keep straight ahead.