Length: 8 mi RT
Elevation Change: 2565' gain
Season: Summer thru Fall
Difficulty: Difficult
Permit: Restricted


Features:

NEW!
Click for PDF Topo Map of this Hike

I hesitated to put this hike on this site, but decided to present it and leave the moral decision up to you as to whether or not you feel comfortable climbing this mountain that is considered sacred by the local indigenous people.

Olallie Butte is a shield volcano and is the largest volcano and highest point between Mount Hood and Mount Jefferson, Oregon's two highest peaks. Ice Age glaciers carved the unique geological formations now visible in the higher parts of the mountain. A United States Forest Service fire lookout tower was built on the summit in 1920, but abandoned in 1967. The remnants of the lookout tower still remain on the summit to this day.

Jurisdiction of a parcel of land including the summit area which had been part of the Willamette National Forest was transferred to the Warm Springs Indian Reservation under a revised interpretation of a 19th century treaty. Most of Olallie Butte except the lower western side now lies within the reservation. Although official maintenance of the 4 miles long trail to the summit also ended in the 1960s it still remains in good condition for hikers.

The Warm Springs Indians have removed all signage that encourages visitors to climb the peak. Yet, when approached about getting permission they simply do not respond. So, as the Forest Services suggested; be respectful, stay on the trail, take only photographs, and leave only footprints. The term Olallie is a Chinook word for berry which are abundant in the area.

The parking area for this hike is located just off FR2220 and under a set of large power transmission lines. Park on the west side of the road, and cross back over to what looks like a service road for the transmission lines. Immediately on your right is the trail that takes you to the summit of Olallie Butte. Only a few hundred feet later, this trail crosses the popular Pacific Crest Trail. Because this trail is no longer officially maintained, it gets pretty rough in places, but it is never a poor trail.

The climb up Olallie Butte was wonderfully simple. For some reason, I expected the hike to be more difficult than it was. Maybe because of the elevation? I'm not sure, but I was pleasantly surprised at how easy this hike was. The existing trail is gentle and easy to follow. You will need to gain some significant elevation before you are treated to any real views, but when they start, they don't end. Hopefully, you can enjoy this hike in good weather with clear skies. After all, why climb to the top of a mountain if you can't see the view, right? Well, not quite. You see, there are some amongst us who climb peaks like this only because they are the highest in some county or because they have a certain amount of prominence. Well, OK, then the weather doesn't matter to everyone. You see, Olallie Butte is the highest point in Wasco County, Oregon.


Olallie Butte itself is located mostly outside the official Olallie Lake Scenic Area .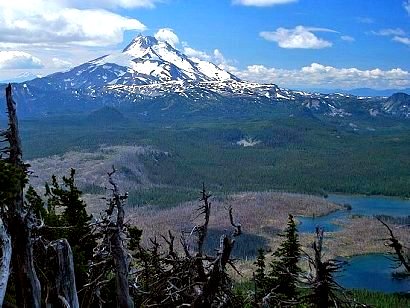 Mt. Jefferson from the Olallie Butte trail
How to get there:
NEW!
Click for PDF Directions Map of this Hike
Drive southeast out of Estacada on Hwy 224 for about 25 miles, until you pass the Ripplebrook Ranger Station and the road bends to the right and is renamed Forest Road 46. Continue south on FR 46 for about another 21.7 miles to the junction of Forest Road 4690.

Conveniently, they have written Olallie in yellow lettering right on the pavement, so it is kinda hard to miss this intersection. Follow FR 4690 for about 5.9 miles where it intersects Forest Road 4220. Turn right on FR 4220 and drive about another 2.7 miles where you cross under a set of large high power electrical lines. At the south end of this clearing, is a road off to the left. Park on the right side of FR 4220, and walk across to the power line service road and you will see the trail marker for Olallie Butte.