Length: 7.2 mi RT
Elevation Change: 1500' gain
Season: Late Spring thru Fall
Difficulty: Challenging
Permit: NW Forest Pass NOT Required


Features:

NEW!
Click for PDF Topo Map of this Hike

This is a rare jewell in the midst of a vigorously logged area. The BLM made a wilderness area out of the small piece of un-logged mountain that is easily accessable by vehicle.

Due to a washout, you have to walk along the old roadbed for a little over a mile and a half before you actually reach the main trail to the summit of Table Rock. Then you begin hiking the actual trail to the top.

If you are fortunate to climb this mountain during clear weather, you are in for a real treat. From north to south you can get a glimpse of Mt. Rainier, Mt. Adams, Mt. St. Helens, Mt. Hood, Mt. Jefferson, Three Finger jack, Mt. Washington, and all three of the Sisters.

There are a couple of ways to reach the high point of Table Rock, but this is the only one I could offer on this website.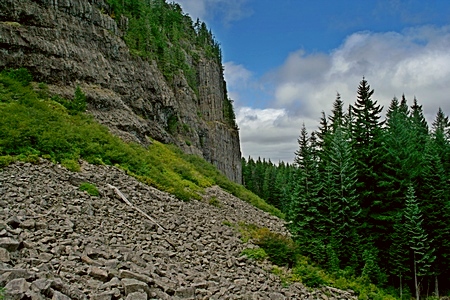 Table Mountain trail crosses a
rock field below the summit
How to get there:
NEW!
Click for PDF Directions Map of this Hike
From Portland, you can get there one of two ways, either from the west (Woodburn) or the north (Oregon City). From Oregon City, take exit 10 off I-205 south to Molalla on Highway 213 and turn left towards Estacada on Highway 211. Go a half mile and turn right onto S. Mathias Road. Go .3 mi and turn left on S. Feyrer Park Road. Go 1.6 mi and turn right onto S. Dickey Prairie Road. Take this 5.3 miles to S. Molalla Forest Road (it's not marked well but it is the bridge to the right that crosses the Molalla River).

Take this road, nice and paved, for 12.3 miles to a point where the paved road forks right and a gravel road goes left. Take the gravel road left. (There is a sign here that identifies it as the way to the Table Rock Trail) From here, basically follow the signs 7 miles to the trailhead. There are two more forks in the road with signs to get you there. Park at road's end at the trailhead.

If you want to access this from the west, take the Woodburn exit off I-5 where the Woodburn Outlet Stores are and head east on Highway 211 to the junction in downtown Molalla with Highway 213 and follow the same directions from there.