Features:


This world class hike is easily accessible therefore it is very popular and the trail is often crowded. However, I was not surprised to see very few hikers mid-week. The trailhead is located at a fine parking area just a short distance east of Chinook Pass and is complete with a couple of restrooms, which are over used on the weekends.... so, Monday's they are pretty useless.

This hike follows the world famous Pacific Crest Trail for about 3 miles. When you leave the parking area, the trail actually descends for about a mile and a half, then climbs to Sheep Lake.


Sheep Lake is a worthy destination in its own and a great place to picnic or even camp over night. Remember, you must camp at least 100 feet from a lake.

However, to get to Crystal Lake, one must hike around the south side of Sheep Lake and them begin a rather significant climb to Sourdough Gap which is about 6404'. As you near the Gap, you can glimpse a view of Mt. Rainier peaking over the ridges to your west. But the real vistas are to the south. You can see Mt. Adams rising up behind the Goat Rocks and you can even see the top of Mt. St. Helens to the southwest.

After you cross over the Gap, the PCT begins to gently lose elevation, and as it makes its first sharp switchback to your right, another trail continues on straight ahead. This is the trail that will take you to Crystal Lake. You will climb gently over another pass, then descend in an open alpine setting where you will get your best views of Mt. Rainier rising up behind the ridge to your west.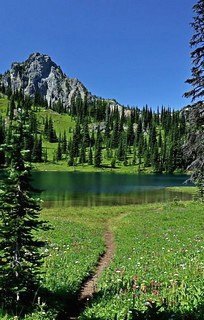 It is a this same point where you begin to get your best views of Crystal Lake which is about 400 feet below you. The trail does a bit of up and down along the way to the lake, but nothing serious. This trail takes you right to the waters edge where you can rest and enjoy the four billion mosquitoes if you have chosen the wrong time of year to be there. Otherwise, the destination is world class and you can walk around the lake if you have time. Keep in mind, you have to climb out of this valley and walk the nearly 4 miles back to where you parked your vehicle.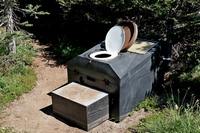 In season the wildflowers along this hike are just fantastic. And there is always the possibility, especially during the week, that you will get to view some wildlife. There are the ever present marmots, picas and an occasional deer or bear.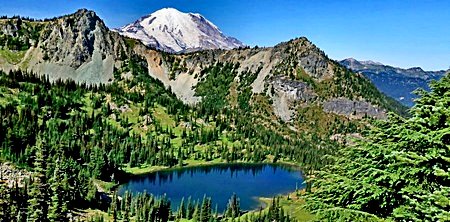 Mt. Rainier from Crystal Lake trail