Features:

This hike up to the Eagle Peak saddle is about as steep as the hikes in the Mt. Rainier National Park get. There are other hikes that are more difficult, but this is a great aerobic exercise.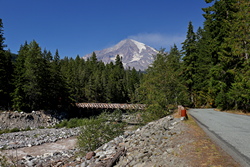 The trailhead for this hike is the beginning of several hikes, but I am presenting the hike just up to the saddle between Eagle Peak and Chutla Peak. Achieving this goal offers outstanding rewards.

In mid to late summer, the wildflowers in the upper regions of the hike are awesome, but for the most part, the trail is located in a densely forested area. The trail is well built and provides well placed switchbacks, making the ascent far more tolerable.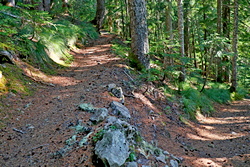 About 2.7 miles into the hike, you will come to an intersection where you will want to take a sharp and very steep turn to the left. Going straight ahead at this point, the trail goes to Wahpenayo Peak.

From this intersection on, the trail is unusually steep and levels out very little before reaching the saddle. The last few hundred feet of this hike is very steep but the trail is in good condition so it is easy to negotiate.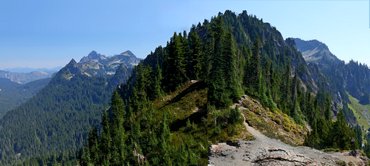 Once you arrive at the saddle, it is very rewarding to follow a user trail a short distance toward Chutla Peak because of the world class views.




Mt. Rainier from Eagle Peak saddle