Features: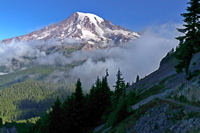 This is a very popular hike in the Mt. Rainier National Park because of its easy access and its access to Pinnacle Peak and Plumber Peak. This hike begins at the Pinnacle Peak trailhead near the Reflection Lakes.

Keep in mind that this trailhead is extremely popular because of the Reflection Lakes, so you would be wise to show up early for a parking place.... 7 to 8am should work. Also, the first part of this hike is on the north slope of the ridge and therefore it can have a lot of snow even in mid-summer.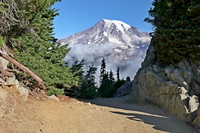 The hike up to the Pinnacle Peak saddle is fairly steep and extremely popular. However, once you reach the saddle, and begin hiking east on the less traveled trail, there will be a lot less traffic and considerably poorer trail condition. During late July and the first of August this area is usually a floral garden which frame world class views of not only Mt. Rainier to the north, but Mt. Adams to the south and Mt. St. Helens to the southwest.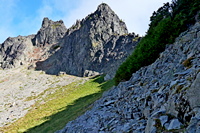 The most challenging part of this hike is being able to follow the trail along the ridge all the way to Foss Peak. About mid-way between the Pinnacle Peak saddle and Foss Peak, there is a significant ridge which is a part of the peak that is called The Castle. It is possible to drop over the north side of the ridge and hike east below The Castle, but the main trail crosses on the ridge line to the south of The Castle.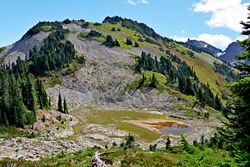 When you near the ridge of The Castle, the trail begins to drop quickly along the west side of the ridge. About half way down the manageable ridge, you will need to to climb up through the very dense alpine forest on the ridge to reach the east side.

Once you accomplish this, the trail to Foss Peak is easily discernable and the views are world class. The trail drops just before Foss Peak to a small tarn. Maps show alternate routes up Foss Peak, but I recommend the trail on the south side of the little tarn. The trail is very difficult at times to discern but stay on the trail as much as possible and it will lead you to the summit.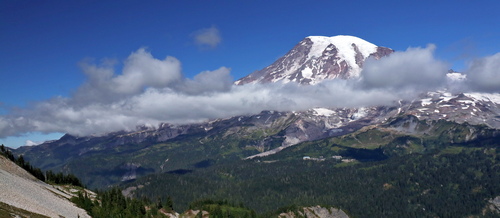 Mt. Rainier from the Foss Peak trail