Length: 11.2 mi RT
Elevation Change: 2674'
Season: Summer thru early Fall
Difficulty: Difficult
Permit: Special Use Entry Permit Required
GPS: N44 39.6, W121 53.4762
Latitude: 44.66
Longitude: -121.89127

You must obtain a special use permit to hike/camp in the Pamelia Lake / Hunts Cove / Shale Lake area of the Mt Jefferson Wilderness. These Limited Entry Permits must be obtained online at www.recreation.gov.

Features:

This is another incredible hike located within the Mt. Jefferson Wilderness Area and the Pamelia Limited Entry Permit Area. From the trailhead you hike about 2.3 miles along Pamelia Creek to the junction to Grizzly Peak. Of course, when you come to the junction you are only a stone's throw from Pamelia Lake, so it would be some kind of crime to not walk over and enjoy the fantastic view of a gorgeous mountain lake. If you walk along the shore to your right, you can look back at Mt. Jefferson. Then return to the junction to Grizzly Peak, and begin your ascent.

The climb up Gizzly Peak is long and steady, and for the first two and a half miles, you are mostly in a densly forested area. At about two and a half miles, the trail reaches the ridge line of the mountain, and by walking just a few feet off the trail to the east side, you are afforded amazing views of Mt. Jefferson and Pamelia Lake below you.

From the summit of Grizzly Peak on a clear day you can see Mt. Hood to the north, and when you look south, you can see Three Fingered Jack, Mt. Washington, Broken Top, and the North Sister and Middle Sister Mountains. In season this hike is abundant with wildflowers, but any time you hike it, it is abundant in world class views.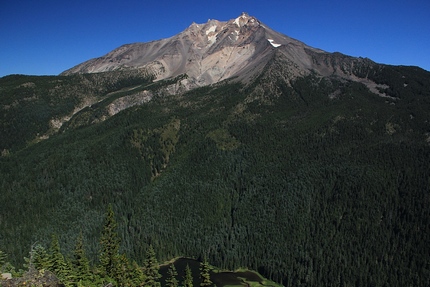 View of Mt. Jefferson from Grizzly Peak