Features:

This little nature trail hike is perfect for families with small children and/or senior citizens.

There are information plaques along the trail to explain to you what makes up this unique and ancient forest. And the Ohanapechosh River runs through the area, adding a special charm to this friendly hike.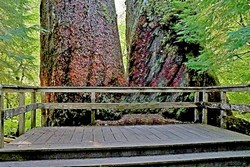 As noted at the beginning of this description, the spring rains were hard on the trail and the viewing places, so you will be sure to ask the park services if the area is open, before heading out to this adventure.


Suspension Bridge across Ohanapechosh River