Features:

This another gem of a hike in the Mt. Rainier National Park. The trailhead for this ambitious hike is located at the Sunrise Point view area. The trail follows the ridge for a short distance and then drops very steeply and switchbacks toward Sunrise Lake.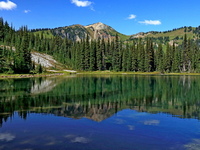 If you take the spur trail to Sunrise Lake, you will be glad that you did. The trail continues for about a miles to climb and descend along its way to Clover Lake. This is a delightful little lake with a pleasant western shoreline.



The trail climbs over a ridge as you continue north, and it offers a good view of the surrounding peaks and valleys. After the trail drops down into the meadow below, there is a small pond worth walking over to where you can enjoy great views of the cliffs to the north.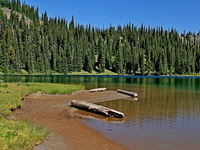 Again, the trail gently climbs and descends as it works its way north. When you come to the junction of Hidden Lake, I strongly recommend adding this destination to your hiking itinerary. When you return to the main trail, continue north past Dick's Lake. There is a camp area near this small lake.


In another mile you will come to the junction with the trail to Brown Peak. Just a short distance beyond this junction, you will come to the junction of the trail that will take you down to Upper Palisades Lake and/or the designated camp area nearby.

In mid-summer, this is a very floral hike. But if you get there too early, you will likely find snow on the north facing slopes.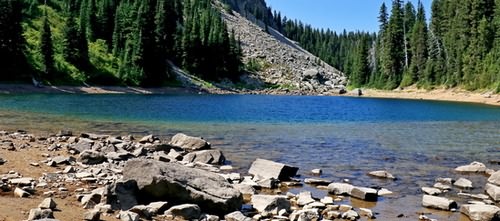 Upper Palisades Lake