Features: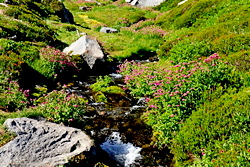 This is a very popular hike in the Mt. Rainier National Park because of its easy access and its world class views. This hike uses the very popular Wonderland Trail and the first 2 miles it is almost wide enough to walk side by side.


One of the greatest challenges to enjoying this hike, is finding a place to park at the designated trailhead. On a weekend, if you arrive after 7am, you may not find a place to park.

For the first mile, the trail is relatively level, but then it gradually begins to climb. At about 2 miles, the trail crosses Fryingpan Creek on a log bridge with a railing to hold on to. After crossing the creek, the trail begins its serious climb by several well placed switchbacks. In about another mile, the trail intersects a couple of serious options.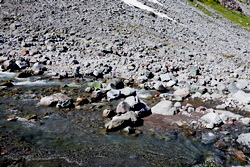 To the left, or east, are trails to the designated camp areas and toilet facilities. To the righ, or west, is a trail that leads to several destinations, including Little Tahoma. To reach Panhandle Gap, just remain on the Wonderland Trail. The next two miles are the most challenging of this hike. The trail is steeper and it crosses a significant meltwater stream on its way to the Gap.

Most of the summer there are snow fields to cross but nothing technical. Just before reaching the Gap, there is a rather steep snowfield to navigate and one should use intelligent caution so as to not slip down the slop and have to reclimb it. Once you reach Panhandle Gap, on a clear day you will be greeted with awesome views of the mountains south of Mt. Rainier.... Mt. Adams, the Goat Rocks, and even Mt. Hood.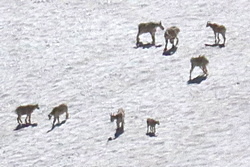 The day we hiked to the Gap, we were treated to over 3 dozen mountain goats in 2 different groups. Mountain Goats love to lay on the snow when it is hot and in this case, they got up to to move to the clear area just beside the snowdrift.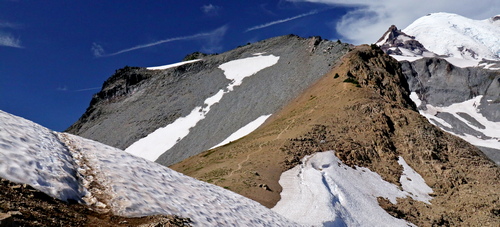 Mt. Rainier from Panhandle Gap