Features:


Here is another world class hikes in the Mt. Rainier National Park. The trail begins in the parking area of the very popular Reflection Lakes, so finding a place to park might be a challenge. An early arrival will help a lot.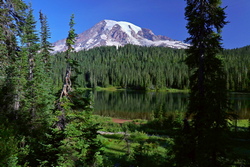 This hike involves a long steady climb on a rather steep trail to the saddle that separates Pinnacle Peak from Plummer Peak. During the summer, the trail is surrounded by gorgeous wildflowers nearly at every step. Even though while climbing, Mt. Rainier is behind you, there are numerous opportunities to just stop and look at the magnificent mountain.

This is one of the most popular trail in the Mt. Rainier National Park, so it is well defined and quite broad in most places until you reach the saddle. There are marmots and pikas along the trail and it is common to see them.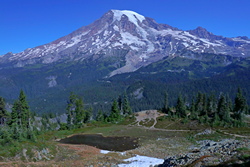 In early summer, there will most likely be snow on the trail from time to time, but because the hike is so popular, the trail will be well defined through the occasional snow drift.

At the 1.2 mile mark, you will reach a saddle that divides Pinnacle Peak on your left from Plummer Peak on your right. This hike description is for Plummer Peak. There is not an official trail from this saddle to the summit of Plummer Peak, and so many hikers have found ways up the mountain that there are many user trails to choose from.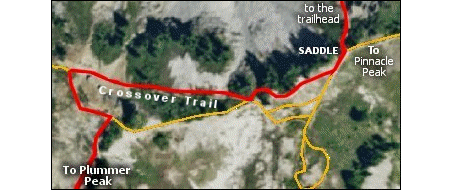 I encourage you to follow the route that begins on the right side of the saddle and winds its way through small trees until it crosses an open area with world class views. Once you begin ascending the ridge line toward the summit of Plummer Peak, a good user trail becomes obvious and so just follow it to the top.



Mt. Rainier from the Pinnacle Peak trail