Features: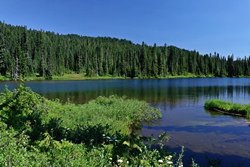 This is a very popular hike in the Mt. Rainier National Park because of its easy access and its modest dimensions. Obviously, you can hike this trail either clockwise or counter-clockwise. Either way, will provide a rewarding adventure.

Because of the lower elevation, this hike is snow free early in the summer and yet provides occasional snow melt ponds along the way. This could increase your likelihood of encountering mosquitos.

The hiker will be treated to incredible views of the Tatoosh Mountain range to the south of the lakes, but very few good views of Mt. Rainier. In season the wildflowers here are extraordinary.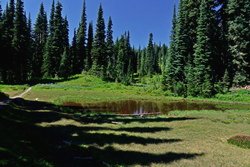 This trail will take you over what is referred to as Faraway Rock. Use caution while crossing this part of the trail because of the dangerous south facing cliffs. In the fall, up until the snow falls and the road is closed, this is a very worthwhile hike.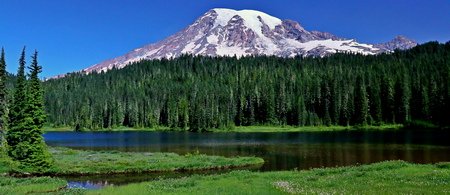 Mt. Rainier from the Reflection Lakes