Features:

This is a unique hike in that it offers a variety of loop options. I will discuss what I call the long loop or Burroughs Mountain loop via Frozen Lake.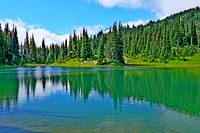 The elevation and proximity to Mt. Rainier results in a lot of snow on the trail even as late as mid-July. Therefore, you are likely to enjoy this adventure more if you wait until late July or early August when the wildflowers are in full bloom.


This hike is presented as a clockwise loop and begins near the middle south part of the parking lot at the Sunrise Visitor center.

The map as well as my description of the hike will be leaving Sunrise VC and following the Sunrise Rim Trail to Shadow Lake and then on to the saddle between the first and second Burroughs Mountain.

In mid to late July, the wildflowers really add to the beauty of this hike, but nothing adds as much as a clear day so you can view all of Mt. Rainier in its magnificence. As the trail leaves the Shadow Lake area and begins to climb along the south side of the first Burroughs Mountain, there can be snow on the trail even into August. So be very careful to avoid sliding down the rocky slope below the trail.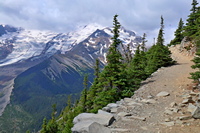 This particular loop hike offers a fantastic variety of vistas, flowers, and an occasional mountain goat for your viewing pleasure.

In the fall, up until the snow falls and the road is closed, this is a very worthwhile hike.


Mt. Rainier from the Sunrise Rim
trail to Shadow Lake