Features:

This another gem of a hike in the Mt. Rainier National Park. The trailhead for this ambitious hike is located along Hwy 123 between Cayuse Pass and the Steven's Canyon entrance to the park.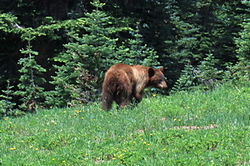 This is a very steep hike but if you just take your time and enjoy the views and flowers and if you are lucky, the wildlife. Obviously, the quieter you are while hiking, the more likely you are to view wildlife.

Because of the elevation of the hike, there will likely be snow on the trail even into late July. If you have a good map with you, the snow should not be a problem keeping track of the trail.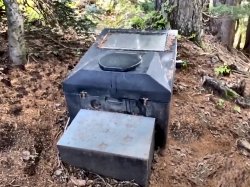 Weather permitting, this hike offers some of the most outstanding views of Mt. Rainier and to the south, Mt. Adams. Right after the snow melts, the higher elevations are covered with an abundance of wildflowers. Glacial Lilies come up right after the snow melts and they line the trail in all their beauty.

The upper half of the trail crosses a number of wide open spaces, where you are able to view the incredible vistas surrounding you. This is a likely place to see wildlife too.

There is a fire lookout at the summit of Shriner Peak, but it is not available for public use. There is a camp area to the south of the tower, along with an open air toilet.




Mt. Rainier from the Shriner Peak trail