Features: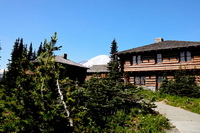 This hike to the Mount Fremont Fire lookout begins like several other hikes from the Sunrise Visitor Center parking area. Most people just follow a road past the restrooms to the first trail junction which also has a map of the area on a reader board. Follow the trail to Sourdough Ridge, passing a junction to that splits east and west. Follow west toward the trail west.

In about a half mile you will pass a junction to a trail leading to Forest Lake. Continue on towards Frozen Lake which is about another mile. Early in the season it is common to cross over melting winter snow and in mid-summer you will be treated to amazing displays of fields of wildflowers. Whatever season you hike this trail, if the weather permits, you will have world class views of Mt. Rainier all along the way to Skyscraper Mountain.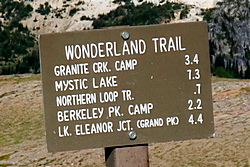 When you reach views of Frozen Lake, you will encounter a 5 way junction. Follow the Wonderland Trail which will cross the shoulder of Skyscraper Mountain in approximately 2 miles. From the Frozen Lake junction the Wonderland trail begins to descend for seven tenths of a mile where the trail branches off to the Berkeley Park camp area lower in the valley.

At that junction the Wonderland Trail begins a gentle climb as it works its way to the shoulder of Skyscraper Mountain. In about a mile and a half, the trail passes through a small wooded area and just after that, there is a users trail on the right that takes you a short distance to a fantastic viewpoint looking down on a meadow along Lodi Creek below.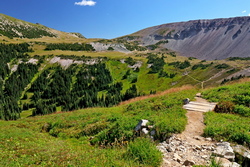 From this optional user trail it is but a short distance along a steep north facing slope to the junction of the trail that ascends Skyscraper Mountain. Note that in early summer this steep slope will likely be covered with a significant snowfield. Cross the snow carefully, or you might find yourself having to climb back up from the bottom of the steep slope.

At the junction to the summit of Skyscraper Mountain, the Wonderland Trail continues as it descends into the valley and to Granite Creek camp area. To summit Skyscraper Mountain, follow the trail north off the Wonderland Trail as it descends slightly before the vigorous half mile climb up the mountain. The views from the summit make this entire adventure so worth it.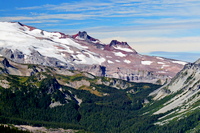 A bonus to most of the hikes in the Mt. Rainier National Park is the likelihood of seeing wildlife. Mountain goats are frequently seen on this hike as well as the occasional bear and fox. Always be extremely careful around the cliff areas.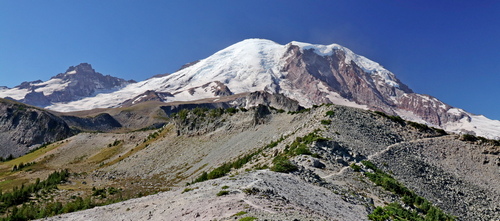 Mt. Rainier from the Skyscraper Mountain trail