Features:

This is a short but a little steep hike to a couple of alpine lakes with world class views. The hike is very popular and it can be a struggle to find a place to park, so arriving early really helps.


The trail climbs immediately out of the parking area and tends to climb and descent several times as you near the lakes. The first lake is Bench Lake and the trail is a very steep but short drop down to the lake level with unparalleled views of Mt. Rainier.

After enjoying Bench Lake, you will have to climb the steep trail back to the main trail that leads you to Snow Lake. The trail climbs steeply at times, but then descends to the lake level. When you get to the lake, the trail splits and if you take the route to your right, you are treated to a view of the lake from the mountain side shore.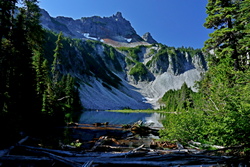 If you turn to the left at the junction, the trail leads you to a camp area and to the valley side of the lake with world class views of the lake and surrounding mountains. During the summer, the wildflowers are abundant and the likelihood of seeing deer is high.

The views of Mt. Rainier on your hike back to the trailhead are indeed spectacular.

Mt. Rainier from Bench Lake